Geely expands NEV co-op with Dajiangdong industry cluster
| ehangzhou.gov.cn | Updated: 2018-09-12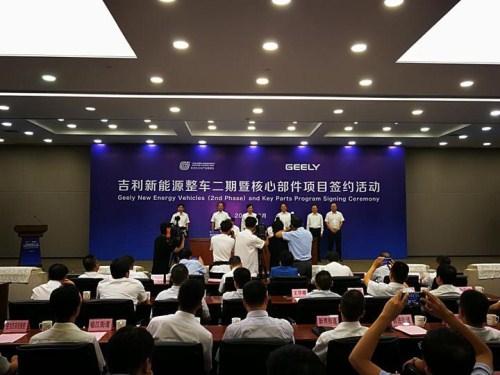 The signing ceremony of the new energy vehicle and key parts project between Geely Holding Group and Dajiangdong Industry Cluster is held in Hangzhou on Sept 10. [Photo/zj.zjol.com]
Geely Holding Group signed an agreement with the Dajiangdong Industry Cluster in Hangzhou on Sept 10 for its new energy vehicle (NEV) and key parts project to be conducted in this area.
The partnership is built on the two sides' cooperation on a NEV project two years ago, which will enter production at the end of the year.
The new project will not only increase the auto production capacity of Dajiangdong, but also promote development of the area's key parts industry, and elevate the status of Dajiangdong in the auto industry at the city, provincial and even state levels.
"We will strive to provide a first-class business climate and related services to make sure the project will start construction and enter production as soon as possible," said a person in charge at the Dajiangdong Industry Cluster.
With the digitalization of industries as its focal point, Dajiangdong has been endeavoring to build itself into a world-class high-end intelligent manufacturing base.
A full auto industrial chain integrating vehicle manufacturing, auto parts supply, technology R&D and robot applications has basically taken shape in this area, with many auto brands and nearly 100 auto parts suppliers clustering together.
The auto production capacity of Dajiangdong is now 800,000 vehicles per year, half of its targeted annual production capacity of 1.6 million.
Geely Holding Group, a private auto company founded in 1986 in Hangzhou, Zhejiang province, is a leading independent brand in China's auto industry, and has made the Fortune Global 500 list for seven consecutive years.
Its Geely vehicles had a sales volume of over one million by the end of August, with its sales growth ranking first among all the nation's independent auto brands.
The company plans to increase its auto sales to over three million vehicles by 2020 and make its way into the top ten auto companies around the globe.