COVID-19 remains a priority for govt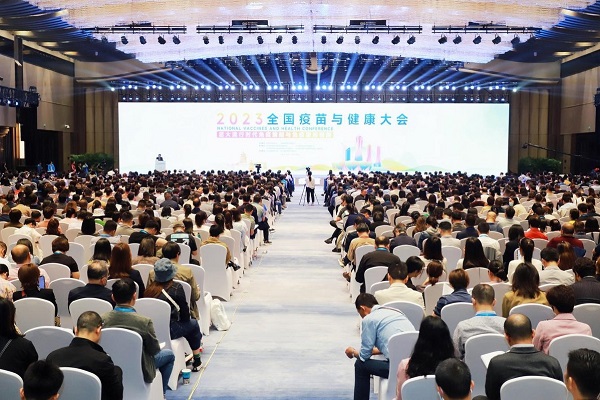 The 2023 National Vaccines and Health Conference is held in Hangzhou, Zhejiang province, from Saturday to Sunday. [Photo/provided to chinadaily.com.cn]
While the end of the COVID-19 pandemic seems in sight, experts and officials said on Saturday that vaccinating vulnerable groups against the disease, monitoring immunity levels across its population and stepping up preparedness for developing novel and variant-specific vaccines will remain essential tasks.
Qi Xiaopeng, a researcher at the Chinese Center for Disease Control and Prevention, said that the numbers of new infections and related deaths globally have both dropped to lowest levels since the virus first emerged in late 2019, citing data from the World Health Organization.
Around 50 countries, mostly in Africa and North America, have reported no new infections in the past 30 days. Many other countries have also reduced the frequency of COVID-19 cases with the epidemic waning, she said during an event held during the 2023 National Vaccines and Health Conference.
The event, the fifth of its kind, was jointly held by the Chinese Preventive Medicine Association and the China CDC in Hangzhou, Zhejiang province, from Saturday to Sunday.
China downgraded management of the disease from Class A to B on Jan 8. Qi said that as of April 11, 192 countries and region no longer required negative nucleic acid testing from vaccinated incoming passengers from the Chinese mainland.
Li Bin, vice-minister of the National Health Commission, said that China's mass vaccination campaign has played a vital role in enabling the country to protect susceptible groups, reducing severe cases and deaths and securing a victory against the disease.
As of recently, the mainland had delivered nearly 3.5 billion doses and fully vaccinated about 1.28 billion people, according to official data.
"At present and for quite some time in the future, it is important to step up research on immunogenicity, length and strength of long-term immunity of COVID-19 vaccines, as well as closely studying new variants' impact on existing vaccines, and beefing up vaccine development preparedness against key novel strains," he said.
So far, China has 17 COVID-19 vaccine products that have completed or are undergoing third-stage human trials.
Yin Zundong, head of the China CDC's national immunization program, said that developing and promoting vaccines tailored to target new variants or capable of tackling multiple variants are bound to be a priority task in the future.
He added that with the highly-transmissible Omicron and its offshoots in circulation, heightened efforts will be dedicated into expanding coverage among the elderly and vulnerable groups, such as those with chronic diseases, who are at higher risk of developing severe cases and deaths after infection.
Yin added that researchers are pushing research into evaluating real-world efficacy outcomes of domestic COVID-19 vaccines.
August 4, 2023

July 27, 2023