Museum visit offers scholars a taste of Liangzhu civilization
| ehangzhou.gov.cn | Updated: 2018-09-07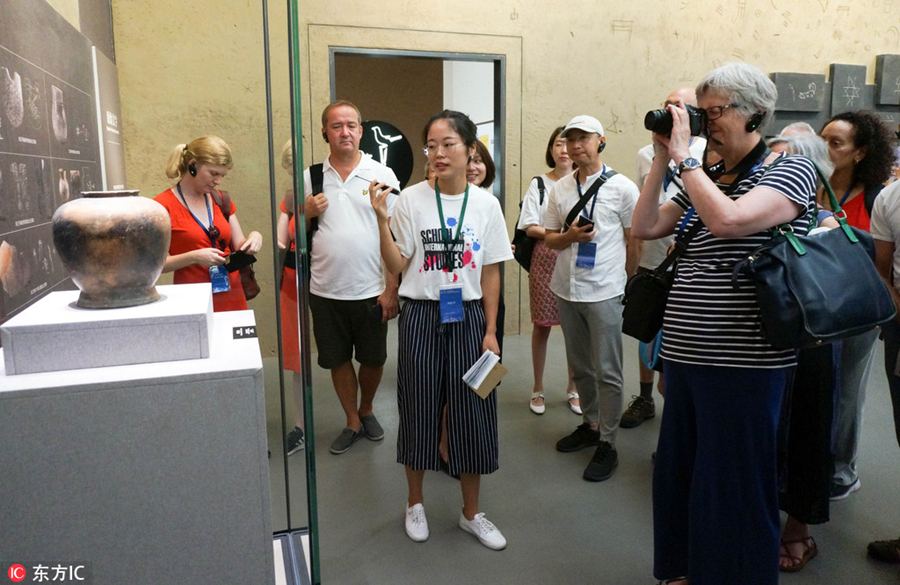 Scholars from home and abroad listen to explanations on the exhibits at Liangzhu Museum in Hangzhou, Zhejiang province on Sept 6. [Photo/IC]
Over 300 scholars from world-class universities and institutes visited Liangzhu Museum on Sept 6, to learn more about the ancient Liangzhu civilization in Hangzhou, capital of Zhejiang province.
Liangzhu culture (3400-2250 BC) was a late Neolithic culture discovered 80 years ago by Chinese archaeologists in the town of Liangzhu, Hangzhou. The glorious and primitive culture played a vital role in shaping ancient Chinese civilization. More than 500 sites have been excavated to date, spanning East China's Zhejiang and Jiangsu provinces, and Shanghai.
These scholars, from more than 200 world class academic agencies including Harvard, Stanford, Oxford and Cambridge, are all researchers specializing in cultural heritage protection.
They attended an international seminar on protecting Liangzhu relic site after the museum visit.
Staff members from the management committee of the historic site introduced the protective measures they've taken and expressed their hope for receiving suggestions and advice from scholars.