China's first 5G experience area comes to Hangzhou
| ehangzhou.gov.cn | Updated: 2019-04-08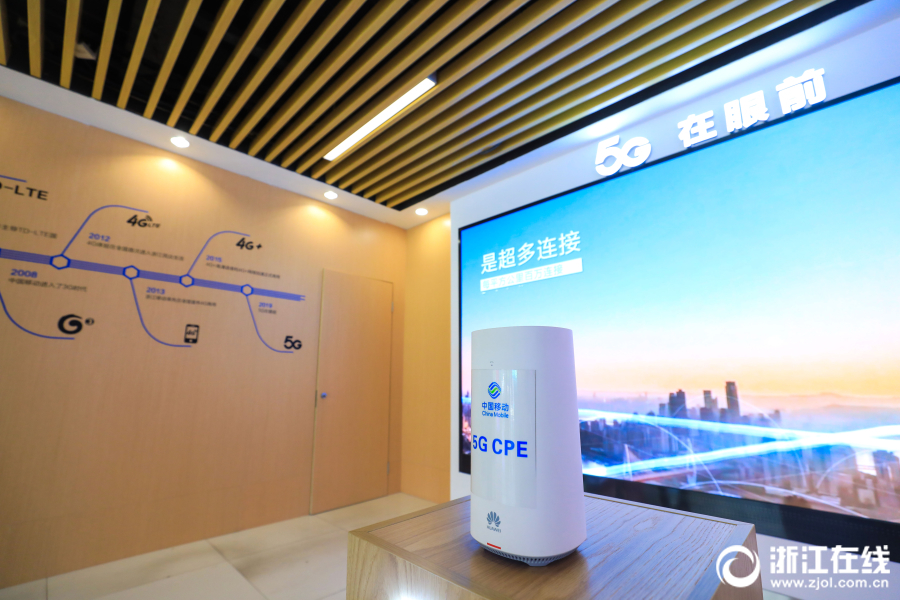 Videos on 5G technology are displayed on a large screen in the experience area in Hangzhou, Zhejiang province. [Photo/zjol.com.cn]
The first experience area featuring 5G wireless network opened to the public in Hangzhou, Zhejiang province, on April 5, offering locals a glimpse at the next-generation technology.
The area aims to provide a taste of what's in store with 5G network, featuring autonomous vehicles, virtual reality and a robot that claims to be unbeatable at rock-paper-scissors – thanks to an artificial intelligence algorithm and 5G technologies which allow it to predict its opponent's move based on hand gestures.
With a higher speed and lower latency, 5G network has a peak download speed of 2.8 Gbps, about 10 times that of 4G.
The area allows visitors to enjoy not only superior network speeds, but also 5G virtual reality (VR) and augmented reality (AR) activities. Those who wear the proper equipment can have a mesmerizing real-life experience in the visual world.
High-end VR gaming applications require higher speeds and lower latency. Only using 5G can one fully experience the wonder of these games, according to a staff member.
The commercial use of 5G network is expected to lead a new wave of transformation in the development of intelligent cities, manufacturing, healthcare, education, trade, commerce, and media entertainment. It will further enhance quality of life and boost development of digital economy, said a staff member from China Mobile Zhejiang Branch.