Tale of clashing tribes
By Zhang Kun | China Daily | Updated: 2020-06-19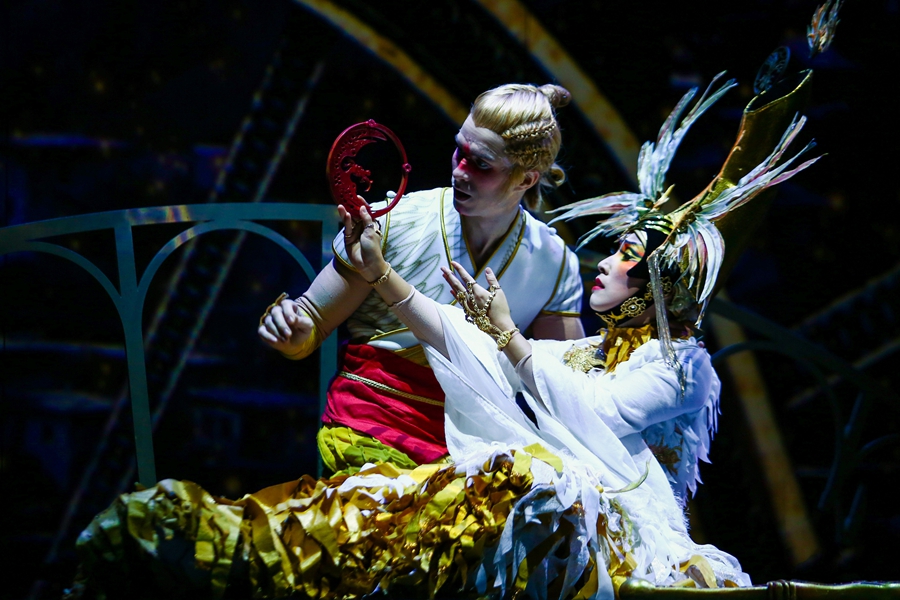 Cirque du Soleil reopens its resident show, X: The Land of Fantasy, in Hangzhou, Zhejiang province, marking the gradual resumption of live performances which had been halted for months due to the pandemic. [Photo provided to China Daily]
Zhu Yuanxiao, a spokeswoman for Hangzhou Xintiandi Group that is hosting the show in one of its venues, says: "Audiences have responded with so much enthusiasm that almost all the tickets have sold out for the shows in June."
According to local regulations, the theater is able to open 50 percent of its more than 1,400 seats for the performances for the time being. Three shows are scheduled for Fridays, Saturdays and Sundays this month, according to Xia Xiaoyu, deputy general manager in charge of the culture and tourism department at Hangzhou Xintiandi.
Jointly produced by Cirque du Soleil and Hangzhou Xintiandi Group, X: The Land of Fantasy premiered on Aug 9. The company put up 111 shows that were seen by more than 90,000 people before the pandemic forced all live shows in the city to close on Jan 23.
The show tells the story of two clashing tribes. It's inspired by Marco Polo's trip to Hangzhou, a beautiful encounter between the East and West, according to Hugo Belanger, the scriptwriter and director.
The Hangzhou Xintiandi Sun Theater, renovated from a factory in the city's former industrial zone, presented some creative challenges to Cirque du Soleil, but the circus has been able to turn those into new visual wonders for the audience to experience.
The theater features 360-degree rotating seats, divided into two zones to represent the encounter of two different worlds. It also has a stage that is more than 100 meters wide.