New LEGO flagship store opens in Hangzhou, celebrating local cultural heritages with creative play
| LEGO | Updated: 2020-06-28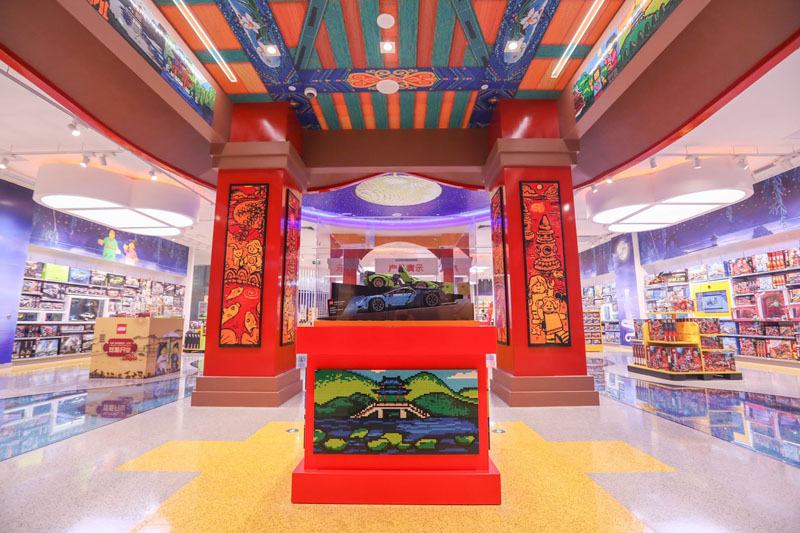 [Photo provided to ehangzhou.gov.cn]
Children, families and fans of all ages in Hangzhou, the capital city of Zhejiang province in China, is now able to enjoy the unique LEGO brand experience in the new LEGO flagship store which is opened in the city today.
Located at Hubin, a vibrant shopping and entertainment centre in the city, the 527-square-meter flagship store offers an immersive and playful LEGO brand experience for shoppers. Besides a full lineup of LEGO products, hands-on and personal LEGO experiences are also available for children and fans to explore in the store.
Steps away from the West Lake, a tourism destination, the flagship store will fascinate guests with creative builds that have strong bonding with the local cultural heritages.
Inspired by pagodas and other local traditional architectures at the West Lake area, the pagoda grand threshold, built with 176,564 LEGO bricks, welcomes everyone at the entrance of the store with features highlighting the Ten West Lake Views and local traditions.
The West Lake play table presents the iconic West Lake sceneries, including the Six Harmonies Pagoda and Three Pools Mirroring the Moon, through 3D models built with 317,463 LEGO bricks. Children and shoppers can build right alongside the play table to create their own masterpieces.
Paul Huang, Senior Vice President of the LEGO Group and General Manager of LEGO China, said "We are excited to open our new flagship store in Hangzhou, a city which is well-known for its culture and history. With the uniquely designed store, we can connect with more local children and fans, providing them with an engaging, playful and creative shopping experience. More importantly, we can reach more Chinese children and support them to learn through play."
Prior to the opening, the LEGO Group donated its toy sets to Hangzhou Children Welfare Center to provide the disadvantaged children in the city with opportunities of learning through play.
It is the fourth LEGO flagship store that the LEGO Group has opened in China since the first one was opened at Shanghai Disney Town in 2016. The other two LEGO flagship stores are located at the People's Square in Shanghai and Wangfujing in Beijing. The fifth LEGO flagship store in China is expected to be opened in Shenzhen City by the end of this year.