Hangzhou 2022 painted flights debut
| ehangzhou.gov.cn | Updated: 2020-07-28
Watch the video to see how the planes are coated. [Video/hangzhou2022.cn]
A fleet of six planes painted with patterns representing the 19th Asian Games, which are to be hosted in Hangzhou, East China's Zhejiang province in 2022, recently made their debut at the local international airport.
This was the first group show since the first Hangzhou 2022 painted plane was unveiled to the public on June 15.
The front part of the fuselage featured a "Tidal Bore", a main element of the Games emblem, while the tail featured the mascots Chenchen, Congcong, and Lianlian, as well as the slogan "Heart to Heart, @ Future".
It took more than a month to complete the coating on the fleet, according to Wang Chunlun, an engineer at Loong Airlines. He said that coating is like clothing that not only protects planes from corrosion, rust, and static, but also reduces the impact of wind, sun, and rain on the exterior.
"The fleet is made up of Airbus A320s, a narrow-bodied series, but it still took 15 people to complete the coating on each plane," Wang said.
Loong Airlines is the official airline service provider for the Games. The company is planning to add 10 new routes to Wuxi, Guilin, Lijiang, and Dalian during the summer holiday.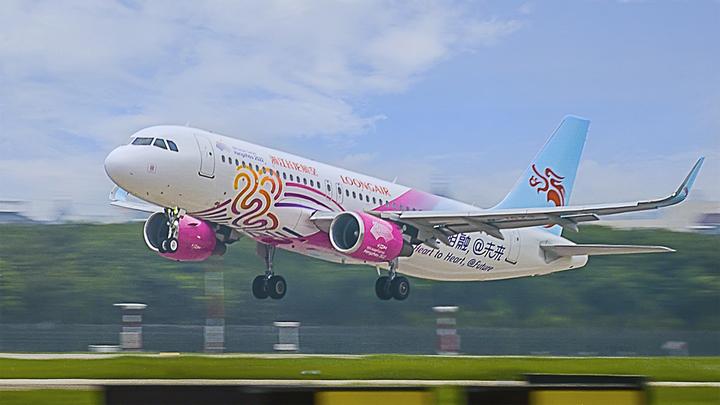 A painted plane makes its debut. [Photo/zj.zjol.com.cn]