14th Intl Cartoon & Animation Festival begins in Hangzhou
The 14th China International Cartoon and Animation Festival (CICAF) kicks off in Hangzhou, capital of East China's Zhejiang province, on April 26.
Through eight sessions and an assortment of activities, the festival will deliver a comprehensive picture of the development of the domestic and international animation industry over the past 40 years.
Themed around "international animation, beautiful Hangzhou", the six-day event is expected to be more international this year, with attendees including representatives from world-famous cartoon companies such as Entertainment One (eOne), one of the producers of British cartoon series Peppa Pig, and Canada's Corus Entertainment Inc.
Famed Chinese enterprises, including Alibaba, Tencent, IQiyi and Bilibili, will attend the event as well.
"CICAF provides a great platform for international animation companies to enter into the Chinese market," said Olivier Dumont, managing director of eOne Family. "This year I came to seek partners for my projects and I hope I can attend the event next year as well," he added.
Globally renowned animators and producers, including Lee Unkrich, director of the Oscar-winning animated feature Coco (2017), the production teams of Loving Vincent (2017) and The Breadwinner (2017), and Hiroyuki Itoh, creator of Hatsune Miku, will be on-hand to discuss the creation and supervision of animated projects, and share their experiences and opinions.
Additional highlights will include cosplay performances, which include not only the live cosplay show, but also themed exhibitions and interactive activities.
This year's event will also witness the strategic partnership between CICAF and Alibaba, who will work together to build a platform for cartoons and animation in China.
CICAF is the only State-level professional cartoon and animation festival in China, and is currently the largest, most popular and most influential professional cartoon and animation festival. The annual event has been held in Hangzhou every spring since 2005.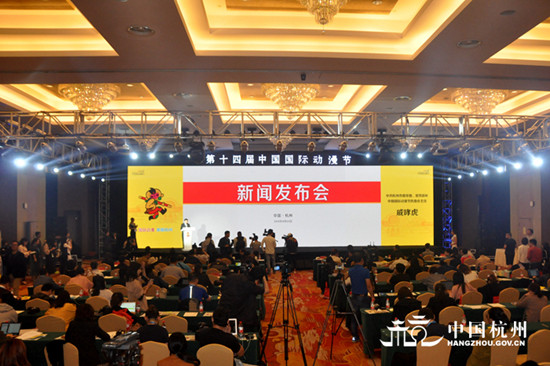 A news conference at the 14th China International Cartoon & Animation Festival is held in Hangzhou, Zhejiang province on April 25. [Photo/hangzhou.gov.cn]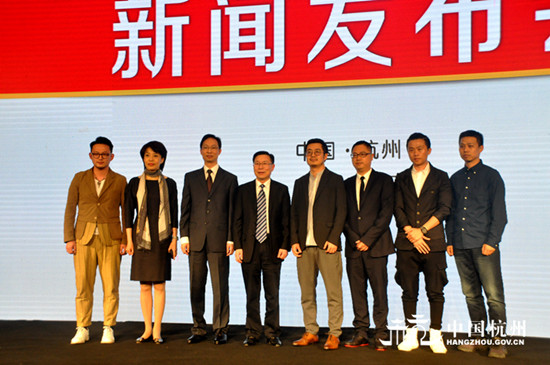 Guests pose for a group photo at the news conference of the 14th China International Cartoon & Animation Festival in Hangzhou, Zhejiang province on April 25. [Photo/hangzhou.gov.cn]