Photo exhibition highlights close ties between Hangzhou and Nice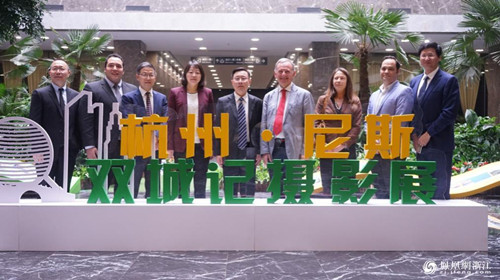 Qi Xiaohu (middle), director of Hangzhou's publicity department, and Rudy Salles (fourth from right), deputy mayor of Nice, with colleagues at the opening of a photography exhibition in Hangzhou on May 6. [Photo/ifeng.com]
A photo exhibition held in celebration of the 20th anniversary of the relationship between the French city of Nice and Hangzhou, capital of Zhejiang province, opened at Hangzhou Civic Center on May 6.
Deputy Mayor of Nice, Rudy Salles, attended the opening ceremony with Hangzhou government officials, with whom he discussed future cooperation and exchanges.
Serving to link the two cities and their histories, the exhibition features more than 100 photographs depicting the great achievements both Hangzhou and Nice have made in the past two decades. The exhibition also provides an opportunity for Hangzhou residents to gain a better understanding their city's ties to Nice.
"Hangzhou is a beautiful city known as an 'earthly paradise'," Salles said. "I hope the two cities can foster a bright future with continued cooperation and exchanges."
Salles said he was impressed by Hangzhou's recent economic development.
Qi Xiaohu, director of Hangzhou's publicity department, said that Hangzhou, as a popular tourist destination, shares many similarities with Nice, which sits on the popular French Riviera. Qi expressed his hope that the two cities will continue friendly relations and work together for the well-being of their people.
Hangzhou and Nice became sister cities in 1998. Over the past 20 years, they have enjoyed cooperation in such fields as economy and trade, culture, tourism and education.
Rudy Salles and Qi Xiaohu exchange gifts at the photo exhibition in Hangzhou, Zhejiang province, May 6. [Photo/ifeng.com]