Chinese seal cutting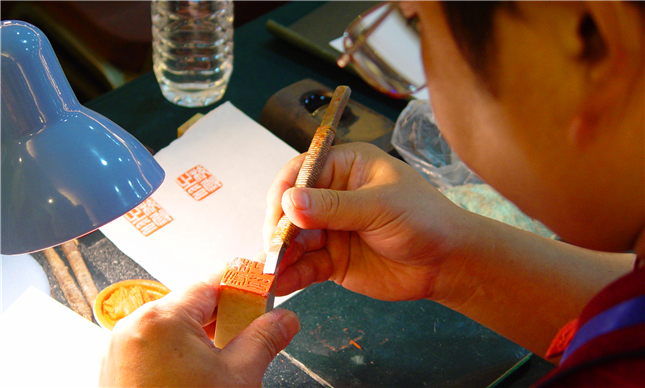 Seal cutting is a traditional Chinese art craft and Xiling Seal Club in Hangzhou is the most influential academic community where this ancient art form is taught.
During the dynasties of Ming (1368-1644) and Qing (1644-1911), Hangzhou was home to many renowned seal cutting masters. The creation of and study on seal cutting became a popular art form in the city, pushing forward the foundation of Xiling Seal Club.
Founded in 1904 during late Qing Dynasty, the club is also the oldest one of its kind. Renowned artist Wu Changshuo took the position of the club's first president in 1913. Adhering to the principle of "preserve seal cutting, study seal theories and develop painting and calligraphy", the club has made great achievements in artistic creation, academic research, cultural relics study and collection, publication and cultural communication. It plays an important role in preserving traditional culture. Honored as "World's Most Famous Club", Xiling Seal Club extends its influences to Japan, South Korea, North America and Europe.
Seal cutting was included in the "catalogue of national representative of intangible heritage culture items" in 2006 and "Chinese seal cutting" entered the Masterpieces of the Intangible Heritage of Humanity by UNESCO in 2009.