Lingyin Temple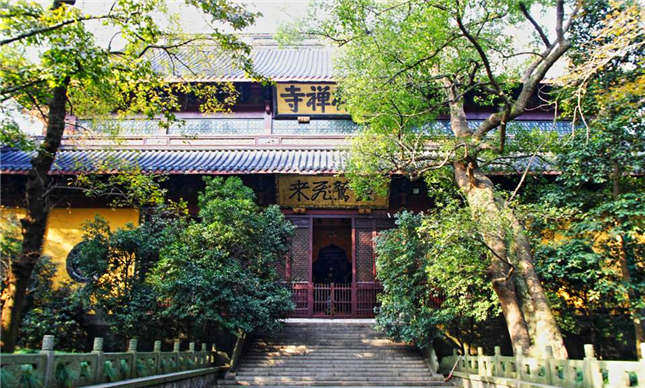 Lingyin Temple, situated to the west of Hangzhou's famous West Lake, stands at the foot of the Beigao Peak and faces the Feilai Peak across a stream.
Built by the Indian monk Huili in AD 326 during the Eastern Jin Dynasty (AD 317-420), the temple was named Lingyin Temple for its beautiful and serene environment, suitable for the "retreating of souls".
In its prime, this temple used to be a large monastery with over 1,300 rooms housing 3,000 monks. The temple has experienced approximately 1,700 years of cyclical prosperity and decline, due to wars and natural calamities, until its last restoration in the Qing Dynasty (1644 - 1911).
With its many old trees, bamboo groves, and quiet and beautiful surroundings, the temple is believed to be the oldest Buddhist temple in Hangzhou, and now receives more than three million people a year.
The main hall in Lingyin Temple is about 34-meter tall - incredibly high for a one-story building. It is home to China's largest sitting Buddha statue, 19.6-meter high and carved out of 24 pieces of camphor wood, gilded with gold. The two stone pagodas in front of the hall were built in AD 960 during the Song Dynasty (AD 960-1271).
The temple is now designated as an important heritage site under state protection.
Address: Lingyin Road No 1, Xihu District, Hangzhou City
Tel: 0086-0571-87968665