Shangri-La Hotel Hangzhou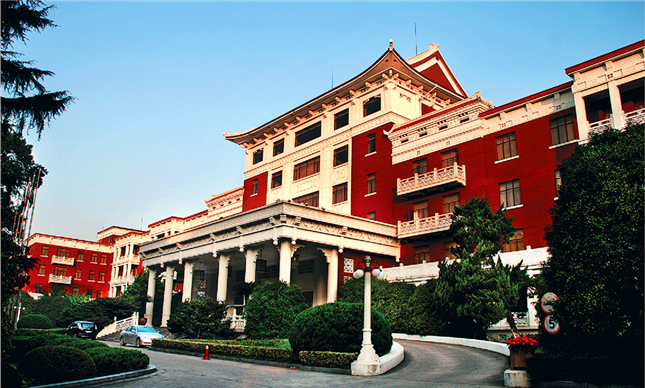 The hotel is located on a world heritage site -- the West Lake and is renowned for its charming environment and thoughtful services. It enjoys convenient transportation. A group of scenic spots, including Yue Fei Temple, Duanqiao Bridge and the Curved Yard and Lotus Pool in Summer are not far from it.
Guests can take a walk to the venue of the Impressions of West Lake, a show that has long been a major evening attraction in Hangzhou.
The hotel is a 5-minute drive from the downtown, 15 minutes from the railway station and 45 minutes from Hangzhou Xiaoshan International Airport.
Thanks to the rental services of public transport means, guests can use them on holidays when there are not enough vehicles.
The hotel offers 380 guestrooms, mixing modern and classical styles in the East Building, West Building and three independent villas.
All rooms are equipped with broadband and wireless Internet access. The deluxe lounge on the sixth floor of the East Building provides guests with a panoramic view of the West Lake. Deluxe guestrooms can offer business and leisure travelers a comfortable and unique experience.
Guests have different dining options in five restaurants, including the Chinese restaurant Shang Palace, Italian restaurant Peppinoa, a cafeteria, a lobby lounge and a bar.
A total of 17 conference rooms and banquet halls with advanced facilities can cater to the various demands of the guests. The hotel boasts experienced conference management staff.
There is a fitness club and other leisure facilities and services. Guests can rent a bicycle to explore the 40-acre property or go sightseeing along the West Lake. They can also relax themselves in the indoor swimming pool at the hotel.
Address: No 78 Beishan Road, Xihu district, Hangzhou
Tel: +86-571-87977951