Wyndham Grand Plaza Royale Hangzhou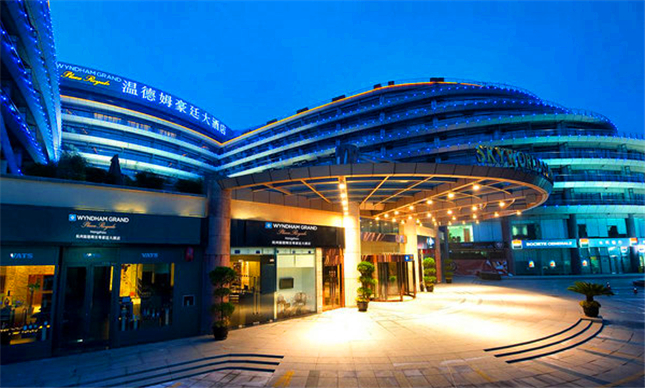 With a favorable location near the West Lake, steps away from the tourist destinations -- Remnant Snow on the Bridge in Winter, or Duanqiao Canxue and the sunglow on the Baoshi Hill, the hotel is within walking distance to Wulin Square, Hangzhou Tower and Yintai Department Store.
It has all kinds of guestrooms, such as lake-view rooms and ladies' rooms, with an average size of 50 square meters. It boasts full WiFi service. Each guestroom has a balcony and an European-style bed.
The Western Restaurant on the second floor offers an extensive range of international delights and the elegantly-decorated SAWASDEE Restaurant entertains guests with authentic Thai cuisine. Diners at the Yinhuxuan Chinese Restaurant on the 10th floor savor delicious Sichuan, Cantonese and Zhejiang cuisine.
There are seven spacious conference rooms, all of which are equipped with advanced meeting and banquet facilities. They can accommodate 20 to 500 people. The grand column-free banquet hall has a floor-to-ceiling glass wall and is linked to a terrace garden, providing guests with a great view of the Baoshi Hill. The lounge on the 9th floor is an excellent place to appreciate the scenery and relax. There is a business center, a gym and a swimming pool.
Address: No 555 Fengqi Road, Xiacheng district, Hangzhou (near Huancheng West Road)
Tel: +86-571-87616888