Hangzhou 2020 Asian Games emblem launched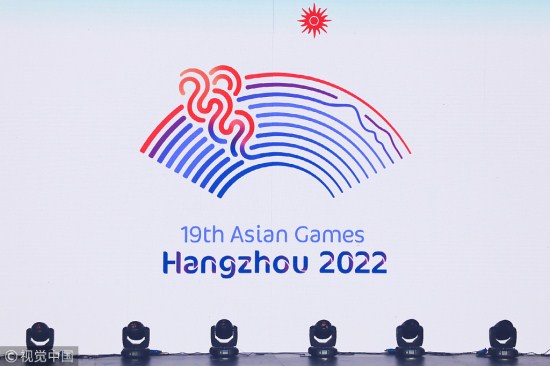 The emblem for the Olympic Council of the 19th Asian Games Hangzhou 2022 is launched at the headquarters of the Hangzhou Culture Radio Television Group in Hangzhou city, east China's Zhejiang province, 6 August 2018. [Photo/VCG]
HANGZHOU - The emblem for the 2022 Asian Games in Hangzhou was launched Monday evening.
Called "Surging Tides", the emblem consists of six elements: a Chinese fan, the Qiantang River, a tidal bore, a running track, the Internet icon and the glowing red sun of the Olympic Council of Asia (OCA).
On behalf of the Hangzhou Asian Games Organising Committee (HAGOC), the Mayor of Hangzhou, Xu Liyi, said: "The emblem embodies the character of our times and the Olympic Spirit.
"Original and highly recognisable, the emblem also underscores the host city's profound heritage and singularity, expressing people's aspirations for staging a successful Asian Games and building a community of a shared future for Asia and mankind."
"The emblem of the Hangzhou Asian Games will be liked and remembered and adds to the proud legacy of the Olympic Movement in Asia and in the world."
The OCA's Senior Vice President, Timothy Fok Tsun-ting, read out a congratulatory message from OCA President Sheikh Ahmed Al-Fahad Al-Ahmed Al-Jaber Al-Sabah.
In his message, Sheikh Ahmed Al-Sabah described the emblem as dynamic and said it highlighted all the unique aspects of the city of Hangzhou.
"By the time the 19th Asian Games comes around in 2022, the emblem will be familiar throughout China, Asia and the world. The OCA is confident that Hangzhou 2022 will be another big success for China and for the OCA's premier sports event, the Asian Games," he added.
HAGOC launched a global call for the emblem design in January and received 4,263 proposals from all over China, as well as other countries and regions in Asia, Europe and the Americas.
After multiple rounds of expert reviews, "Surging Tides" by Professor Yuan Youmin of the China Academy of Art was selected and approved by the Chinese Olympic Committee and the OCA.
The 18th Asian Games will be held in Jakarta and Palembang, Indonesia, from August 18 to September 2. The Asian Games flag will be handed over to Hangzhou at the closing ceremony in Jakarta.