Xiling School starts summer session in Hangzhou
The Hong Kong-based Xiling School announced the start of a summer session at the headquarters of Xiling Seal Art Society in Hangzhou, Zhejiang province, Aug 16.
Xiling School is a cultural exchange platform jointly set up on April 23 by the Xiling Seal Art Society, a Chinese arts organization based in Hangzhou, Joint Publishing (HK) Co Ltd and Tsi Ku Chai, a Hong Kong dealer in Chinese traditional books, paintings and calligraphic works. It is aimed at promoting cultural exchanges between Zhejiang and the special administrative region by offering arts classes to HK residents.
During the weeklong summer session in Hangzhou, six masters from Xiling Seal Art Society give classes on the organization's history and seal culture. Members of the study delegation will be taken to museums and art galleries in Zhejiang, such as Zhejiang Provincial Museum and China Silk Museum, in a bid to gain a deeper understanding of the province's arts and culture.
Chen Zhenlian, vice-president of the seal art society addressed the opening ceremony of the summer session, saying the main tasks for Xiling School are to help form a more open, more active and more practical art training and exchange system, to encourage HK residents to learn more about Chinese traditional culture and to spread Chinese culture to the world with the help of school members.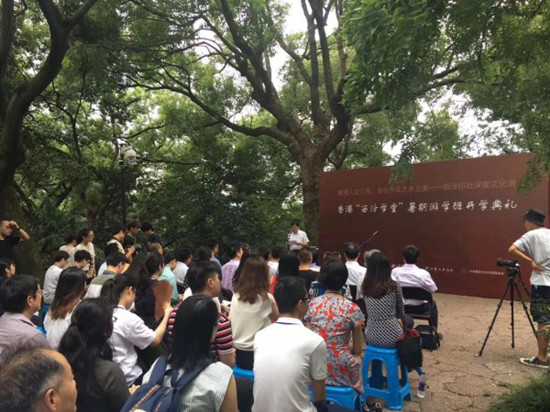 The opening ceremony of a summer session of Xiling School is held at the headquarters of Xiling Seal Art Society in Hangzhou, the capital of Zhejiang province, Aug 16. [Photo/zjol.com.cn]