Exhibition features works by acclaimed ink artist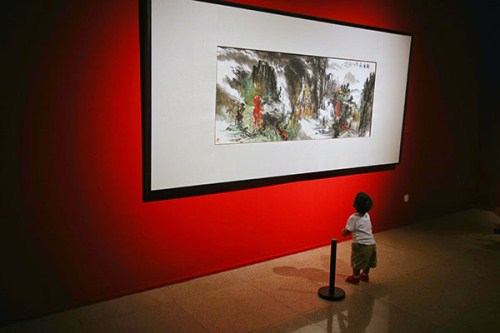 Ink artist Lu Xiujing is holding a solo exhibition at the National Art Museum of China in Beijing, showcasing some 100 paintings, until Sept 2. [Photo by Jiang Dong/China Daily]
Over the past five decades, ink artist Lu Xiujing, 76, has demonstrated the core values of classic Chinese painting, which he learnt from great artists including Huang Binhong and Lu Yanshao.
Now, the Hangzhou-based artist is holding a solo exhibition at the National Art Museum of China in Beijing, showcasing some 100 paintings, until Sept 2.
The exhibition shows Lu's depiction of the scenery of his native Zhejiang province and Jiangnan, the picturesque and prosperous southern area of the Yangtze River's lower reaches.
It also features landscapes of Western China where Lu uses vibrant color palette to show the snowy mountains and magnificent Buddhist monasteries and statues.
Lu also features natural views aboard, especially North America where he has traveled a lot.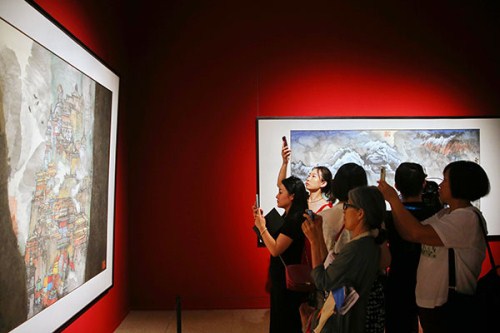 Ink artist Lu Xiujing is holding a solo exhibition at the National Art Museum of China in Beijing, showcasing some 100 paintings, until Sept 2. [Photo by Jiang Dong/China Daily]
Ink artist Lu Xiujing is holding a solo exhibition at the National Art Museum of China in Beijing, showcasing some 100 paintings, until Sept 2. [Photo by Jiang Dong/China Daily]
April 27, 2021

April 23, 2021

April 19, 2021
March 11, 2021