Hangzhou celebrates first Intl Day
| ehangzhou.gov.cn | Updated: 2018-09-06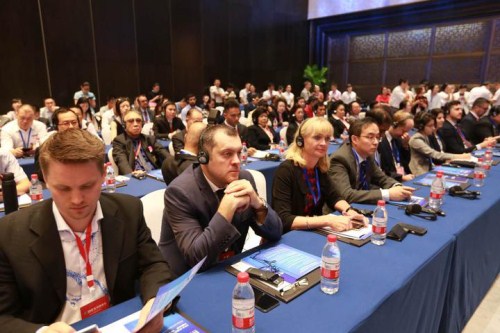 More than 160 leading officials and high-caliber professionals from 29 countries attend the opening ceremony of Hangzhou International Day on Sept 5. [Photo/zjol.com.cn]
Hangzhou, capital of Zhejiang province, celebrated its first international day on Sept 5 with a series of activities to showcase the city's increasing international appeal.
Featuring "promoting cooperation and innovation, building world-renowned city", the grand feast attracted more than 160 leading officials and high-caliber professionals from 29 countries and regions.
Hangzhou designated September 5 as international day last April to mark the anniversary of the closing of the 2016 G20 Summit, which was held in the city. It has become a permanent annual event designed to raise the city's profile.
Zhou Jiangyong, Party secretary of Hangzhou, hailed Hangzhou's achievements in building itself into a world-class city, particularly praising its economic output, innovation capacity, business climate and cultivation of overseas talent.
As the host city of 2016 G20 Summit and upcoming 2022 Asian Games, Hangzhou offers unprecedented opportunities for development not just for China but for the whole world, he said.
Hangzhou is home to over 29,000 high-caliber personnel and 15,000 expats.
In 2017, the added value of Hangzhou's digital economy reached 321.6 billion yuan ($ 47.02 billion), accounting for 25.6 percent of the city's GDP. The total value of foreign trade reached $75 billion.
The ceremony also witnessed the signing of project agreements in the areas of international trade, education and services.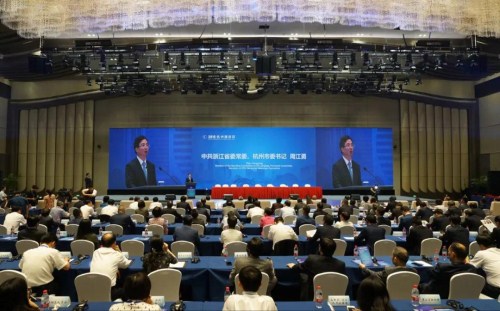 Zhou Jiangyong, Party secretary of Hangzhou, makes a keynote speech at the opening ceremony of Hangzhou International Day, on Sept 5. [Photo/Hangzhou Fabu WeChat]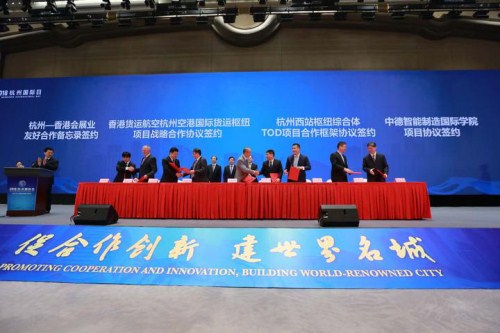 Companies sign project agreements at the opening ceremony of Hangzhou International Day on Sept 5. [Photo/zjol.com.cn]