Cultural and creative expo opens in Hangzhou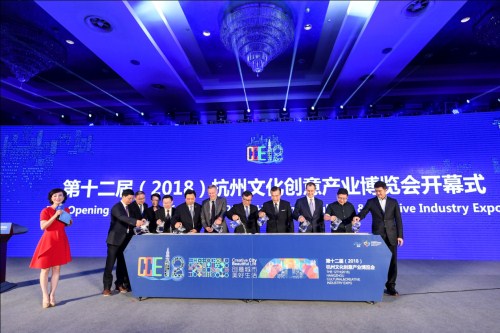 The 2018 Hangzhou Cultural & Creative Industry Expo opens in Hangzhou, Zhejiang province, on Sept 19. [Photo/zjol.com.cn]
The 12th Hangzhou Cultural & Creative Industry Expo (CCIE) kicked off in Hangzhou, Zhejiang province on Sept 19, placing the city's creative and cultural industries under the spotlight.
The expo, running until Sept 23, has attracted delegations from over 40 countries and regions around the world, including the United Kingdom, Germany, Italy and Russia.
With the theme of "creative city, beautiful life", the event has eight pavilions presenting different industry fields including international communication, creative life, culture technology, fine crafts, art innovation and industry convergence in a 70,000-square-meters area.
For the very first time, the expo has set up an international themed exhibition for different countries where the UK, whose creative industry is a main engine to its economy, is acting as the guest country of honor and showcasing the core culture and creative designs from the city of Nottingham.
"Cultural creativity should be integrated into everyone's life, whether for youngsters or elders", said Tony Clemson, consul general of the British consulate general in Shanghai, adding that the development potential of the industry requires cooperation between the government, educational institutions and companies.
Another highlight of the expo was the artcrafts made by the inheritors of intangible cultural heritage, including the traditional Chinese embroideries, porcelains, stone carving and paper crafts.
Along with the product exhibitions, an array of forums and matchmaking activities are also to be held during the next few days, where leading figures and established creative design companies in related industries are to engage with each other and explore the modern trends of the industry via big data.
In addition, this year's expo is also being live streamed online.
Having been successfully held annually for 11 years, CCIE has become one of the four major expos in China's cultural and creative industry as well as a "golden name card" for Hangzhou to build an international city for exchanging Asian culture.
In 2017, the added value of the cultural and creative industry reached 304.1 billion yuan ($44.37 billion), accounting for 24.2 percent of the city's GDP.