Hangzhou maps out blueprint for intl development
| ehangzhou.gov.cn | Updated: 2018-10-12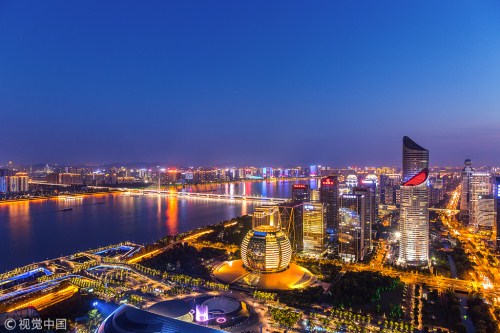 Aerial photo shows a night view of Qiantang River and the downtown CBD of Hangzhou, Zhejiang province. [Photo/VCG]
Hangzhou, capital of East China's Zhejiang province has recently rolled out a series of strategies mapping out a blueprint for the city's international development, heralding a new chapter in the city's quest to stay at the forefront of innovation, according to local media.
The strategies, centering on streamlining the city's administrative services, promoting the digital economy, the protection of cultural heritages as well as the industrial development along the Qiantang River, is a significant step in Hangzhou's attempts to further open up and raise its global profile.
According to the strategies, Hangzhou has pledged to providing people-oriented services by further implementing the pioneering "At Most One Visit" reform, which streamlines administrative procedures and boosts the digitalization of government services.
The city will also step up efforts to develop surrounding areas along the Qiantang River, especially the Hangzhou Olympic and International Expo Center, the main venue for the 2022 Asian Games, and Fuyang district, where many industrial clusters are based.
In the digital economy, Hangzhou will continue to expand. At the just-concluded annual computing conference, Alibaba Cloud, the cloud computing arm of Alibaba Group, launched the 2.0 version of the ET City Brain system, a new solution to improve urban traffic management through artificial intelligence and cloud computing technology.
Meanwhile, the city will strive to make Liangzhu cultural relics, the Neolithic ruins in Zhejiang, a "golden name card" for Hangzhou's long history and profound culture.
In January, the relic site was officially recommended by the National Commission of China for UNESCO as a candidate for World Heritage status in 2019.
Over the past 40 years, the eastern Chinese city has made remarkable progress in its development. In 2017, Hangzhou's GDP reached 1.26 trillion yuan ($181 billion) with an annual growth of 8 percent.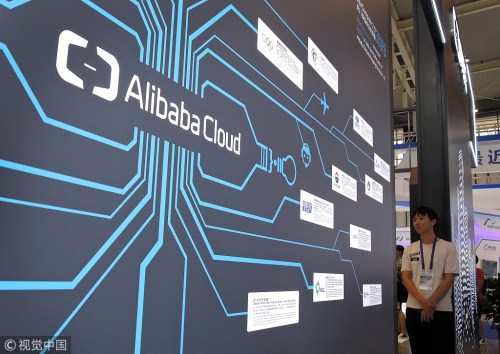 Alibaba Cloud launches the 2.0 version of the ET City Brain system, which is able to cover all 420 square km of urban areas in the eastern Chinese city of Hangzhou. [Photo/VCG]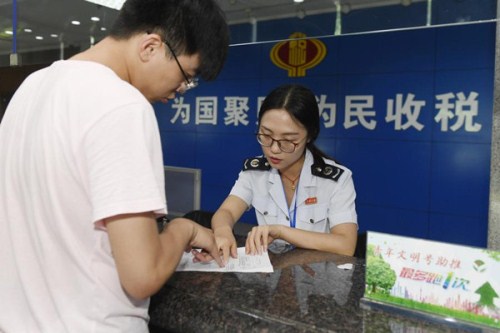 A staff member helps a visitor fill out a form at the tax service hall in Fuyang district, Hangzhou, Zhejiang province. [Photo/Xinhua]