Artworks from around the world on show at Hangzhou fair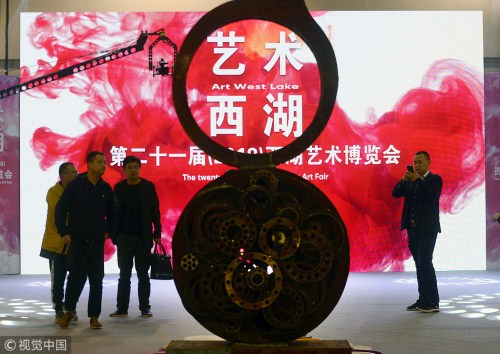 The 21th West Lake Art Fair opens in Hangzhou, capital of East China's Zhejiang province, on Nov 15. [Photo/VCG]
Hundreds of fine artworks from home and abroad are on display at the 21th West Lake Art Fair, which kicked off in Hangzhou, capital of East China's Zhejiang province, on Nov 15.
Featuring art, creativity and life, the exhibition, which lasts until Nov 19, has brought together original and innovative artworks from galleries, professional artists, collectors and art institutions from over 10 countries including Germany, France, the United States, Spain, Russia, Canada, South Korea, Austria and Malaysia.
Consisting of three parts, namely, Art and Galleries, Art and Life and Art and Future, the art feast aims to offer a platform for artists to share ideas and creativity as well as promote art exchanges and transactions within the industry.
Works of well-known artists, including Shuck One, a French graffiti artist and Beldnovich, an established Chinese cultural and creative expert are on show.
Apart from the exhibits, an international collection fair is also being held during the five-day event.
Founded in 1998, the fair has been successfully held for 20 years and is committed to promoting the development of China's art market.
Sculpture works are displayed at the 20th West Lake Art Fair in Hangzhou, capital of East China's Zhejiang province, on Nov 15. [Photo/VCG]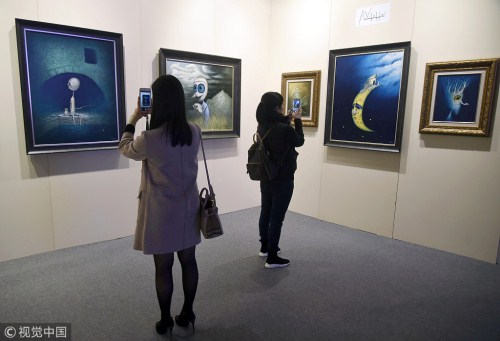 Visitors view the exhibits during the 20th West Lake Art Fair in Hangzhou, capital of East China's Zhejiang province, on Nov 15. [Photo/VCG]