Hangzhou promotes city in Argentina ahead of G20 summit
As Argentina is going all-out making final preparations for the upcoming 2018 G20 summit, Hangzhou, the host city of the 2016 session in East China's Zhejiang province, held a promotional event to showcase the city to visitors in Buenos Aires, capital of the South American country, on Nov 19.

Organized by the Publicity Department of the CPC Hangzhou Municipal Committee, Hangzhou Municipal Bureau of Culture, Radio, TV, Film, Press and Publication and Xiling Seal Art Society, the event was an attempt to display Hangzhou's rich historic and cultural heritage to potential overseas visitors, including the West Lake, Liangzhu culture, and the Beijing-Hangzhou Grand Canal.
Along with the cultural elements, the event also showcased the tremendous developments that have taken place in Hangzhou in recent years, and the innovations in digital technology occurring in the city, as evidenced by the pioneering City Brain project developed by Ali Cloud, the cloud computing arm of e-commerce giant Alibaba, and West Lake University, a private university that aims to cultivate high-level talent in advanced technology.
Over 100 government officials and overseas dignitaries from both countries attended the event.
Jiang Jianguo, deputy head of the Publicity Department of the Communist Party of China Central Committee makes a keynote speech at a promotional event of Hangzhou, Zhejiang province in Buenos Aires, capital of Argentina, on Nov 19. [Photo provided to chinadaily.com.cn]
Jiang Jianguo, deputy head of the Publicity Department of the Communist Party of China Central Committee noted that the hosting of the event couldn't be more timely as Hangzhou and Buenos Aires share many similarities albeit being located on opposite sides of the world.
He hoped that the promotional event can provide a window for Argentine people to better understand Chinese culture and the modern development of the country.
Hangzhou has witnessed rapid development in the digital economy over the years, and the promotional event can be an opportunity to push ahead with exchanges and communication in the financial, cultural and tourism sectors between the both sides, so as to achieve a win-win outcome, said a local official from Buenos Aires.
As part of the event, a series of themed booths and exhibitions showcased Chinese culture and the city of Hangzhou.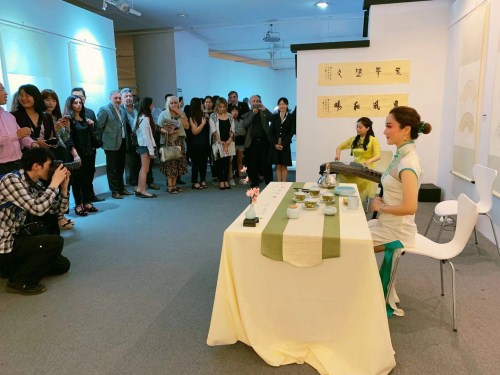 A traditional Chinese cultural performance is presented at a promotion event of Hangzhou, Zhejiang province in Buenos Aires, capital of Argentina, on Nov 19. [Photo provided to chinadaily.com.cn]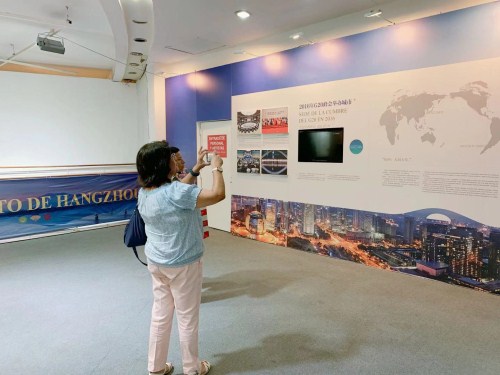 Visitors admire a photo exhibition featuring Hangzhou, Zhejiang province at a promotional event in Buenos Aires, capital of Argentina, on Nov 19. [Photo provided to chinadaily.com.cn]