Longquan celadon on display in Hangzhou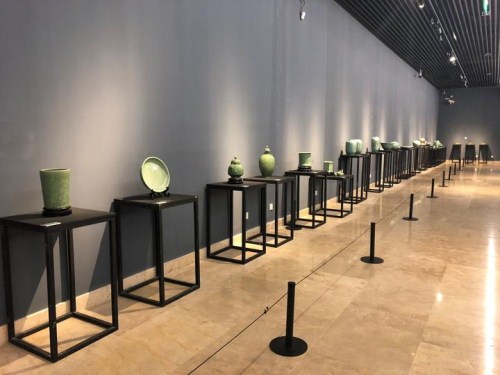 Longquan celadon, a renowned type of celadon-glazed porcelain made in Longquan and neighboring counties in Zhejiang province, is exhibited in Hangzhou Arts and Crafts Museum, Zhejiang province, on Dec 11. [Photo/zjol.com.cn]
Longquan celadon, a renowned style of green-glazed porcelain made in Longquan and neighboring counties in Zhejiang province, is being exhibited in Hangzhou Arts and Crafts Museum from Dec 11 until Dec 20.
This exhibition, which features more than 80 delicate celadon pottery pieces, is aimed at promoting celadon culture and facilitating the innovative development of the traditional crafts.
Having originated 1,700 years ago, Longquan celadon came to the fore in the Northern Song Dynasty (960-1127) and has the longest firing history and the most kilns with the largest production volume and market in the history of Chinese ceramics. The kilns were mostly located in Lishui of Zhejiang province.
Over the years, Lishui city has endeavored to promote the Chinese ceramics to the world by establishing partnerships with local universities and cultivating talents.
In 2016, China Celadon College was established as a joint venture between Lishui University and the Longquan government, and it has been committed to cultivating talents in celadon wares, said Xiao Gang, president of Lishui University.
Longquan celadon was declared an intangible cultural heritage by the by UNESCO in 2009 and is the only celadon art on the list.