Overseas students explore traditional Chinese handicrafts in Hangzhou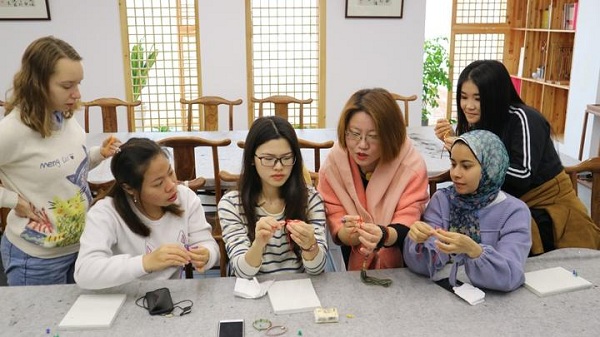 A group of overseas students from six countries learn how to make Chinese knots in Hangzhou, capital of East China's Zhejiang province, on April 16. [Photo/zjol.com.cn]
A group of overseas students from six countries and regions across the world tried their hands at making Chinese knots, a decorative handicraft popular in Hangzhou, capital of East China's Zhejiang province, on April 16.
Organized by Huanyuanting community in Xihu district, the cultural event aims to showcase to foreigners the undeniable beauty of traditional Chinese culture.
"This is my first time weaving bracelets on my own. Chinese traditional art is just so amazing," said an overseas student from Mongolia.
Aside from making Chinese traditional handicrafts, students also tested out their Mandarin skills with local residents.
"Although I've only been studying in China for two years, I've been learning Chinese for five," said a student from Poland, adding that she loves studying in China.
Cultural salons, Chinese opera classes, Chinese calligraphy classes and Mandarin corner were previous themes of the event.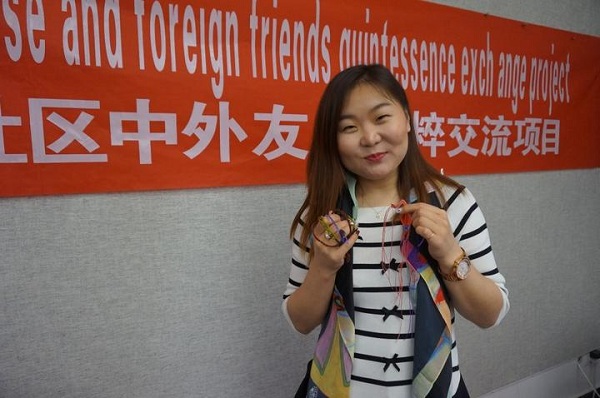 An overseas student from Mongolia displays her Chinese knot at a cultural event in Hangzhou, Zhejiang province, on April 16. [Photo/zjol.com.cn]
April 27, 2021

April 23, 2021

April 19, 2021
March 11, 2021