Intl piano festival highlights Grand Canal culture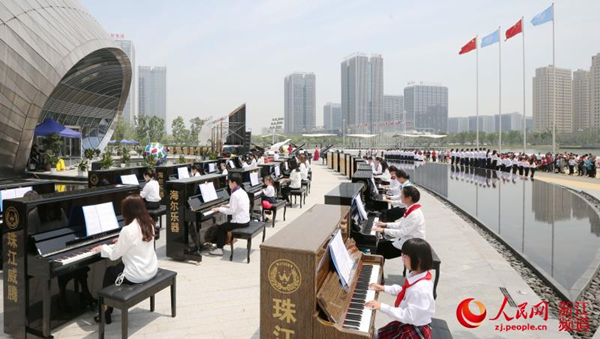 Pianists and students play I Love You China in Deqing county of Huzhou, Zhejiang province, during the opening ceremony of the 2019 China Grand Canal International Piano Festival on May 5. Seventy people played the piano in seven places across Zhejiang on the same day. [Photo by Xie Shangguo]
Pianists from home and abroad gathered in East China's Zhejiang province from May 5 to 11, celebrating Grand Canal culture at the 2019 China Grand Canal International Piano Festival.
The Beijing-Hangzhou Grand Canal, the longest man-made waterway in the world, was listed as a UNESCO heritage site five years ago. Built over 1,000 years ago, the canal is still in use today and plays an important role in China's waterway network.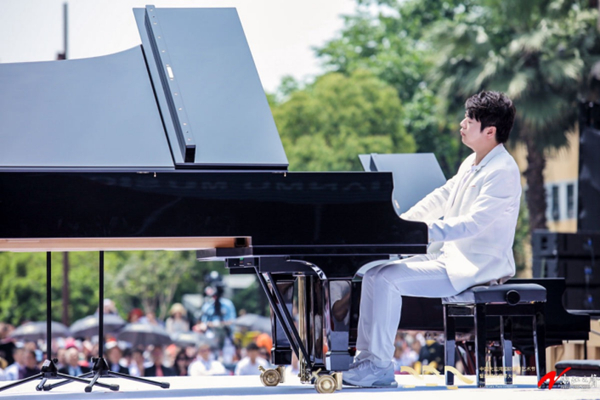 Lang Lang, a world-renowned Chinese pianist, plays the piano at the opening ceremony of the Grand Canal international piano festival in Hangzhou, Zhejiang province, on May 5. [Photo by Mou Jia]
Cities in Zhejiang encompassing Grand Canal culture over the past millenium include Hangzhou, Ningbo, Shaoxing, Jiaxing and Huzhou. All are striving to protect and continue the Grand Canal heritage today.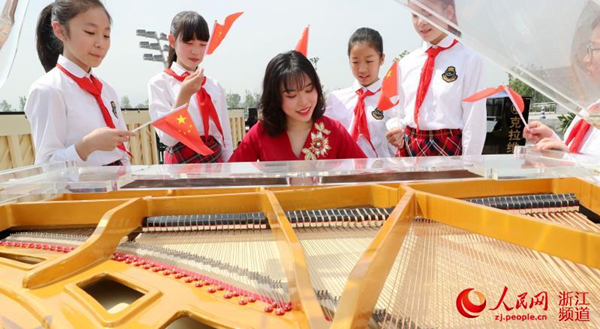 A pianist plays I Love You China in Deqing county, Zhejiang province, on May 5. [Photo by Xie Shangguo]
Lai Yingjie, executive deputy director of Zhejiang's publicity department, hailed the international piano festival as a significant event for the building of a cultural belt along the canal at the opening ceremony.
Led by Lang Lang, a renowned Chinese pianist, 70 people played I Love You China at seven places in Zhejiang at the same time on May 5 to mark the 70th anniversary of the founding of People's Republic of China in 2019.
During the seven-day festival, a series of activities relating to piano playing were staged in Zhejiang, including competitions, concerts and speeches, turning the whole province into a land of music.