New innovation park to boost biomedical industry in Hangzhou
| ehangzhou.gov.cn | Updated: 2019-05-14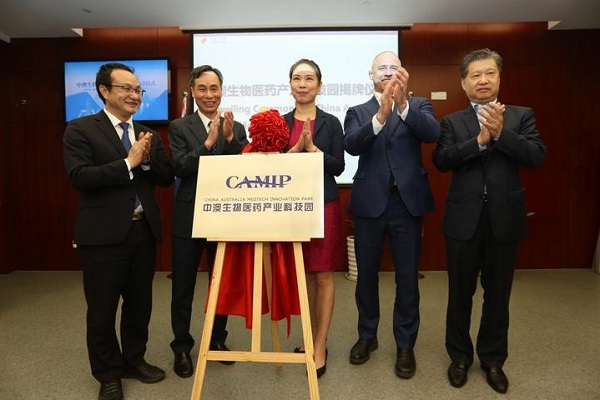 The unveiling ceremony of the China Australia Medtech Innovation Park is held in Hangzhou Binjiang High-tech Zone, Zhejiang province, on May 10. [Photo/zjol.com.cn]
The China Australia Medtech Innovation Park, a joint venture between Hangzhou Binjiang High-tech Zone and the Torch High Technology Industry Development Center of the Ministry of Science and Technology, was unveiled in Hangzhou, Zhejiang province, on May 10.
Run by BioClub, one of the biggest internet platforms for medical technology innovation and entrepreneurship in China, the park is committed to developing itself into a world-class innovative platform and incubation base for biomedical industry by collaborating worldwide biotechnology resources, introducing overseas high-caliber personnel and developing innovative drugs, high-end medical devices and cutting edge diagnostic technology.
Dane Richmond, trade consul of the Australian Consulate General in Shanghai, said that without the local organization, nothing would be possible. He believes that it is about finding the right partner and the right place, and the right place is Binjiang.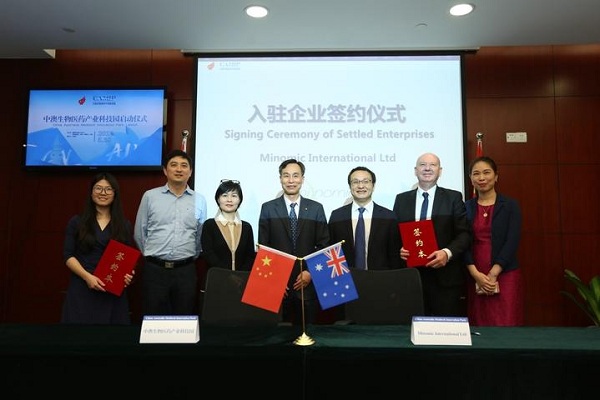 The signing ceremony of settled enterprises in the China Australia Medtech Innovation Park is held in Hangzhou Binjiang High-tech Zone, Zhejiang province, on May 10. [Photo/zjol.com.cn]
Five biotechnology enterprises from Hangzhou and Australia, including the Australian immuno-oncology company Minomic International Ltd, signed agreements to settle in the park during the ceremony.
"I hope that the innovation park can serve as a bridge to attract more projects in the fields of medical devices and biomedicine so as to promote talent exchange, technical cooperation and resource sharing in the international biomedicine community," said an official from Binjiang.
Over the years, Hangzhou Binjiang High-tech Zone has been actively developing its health industry with key focuses on intelligent healthcare, biomedicine, diagnostic reagent, and medical devices and equipment.
It has attracted a bunch of quality life science enterprises by giving full play to its advantages in innovative talents, capital, technology services and business environment.