Gourmet festival offers Hangzhou flavor
| ehangzhou.gov.cn | Updated: 2019-05-16
Flavors from all over Asia and entertaining cultural displays are on offer in Hangzhou, capital of East China's Zhejiang province, from May 15.
The "Taste of Hangzhou" Asian Cuisine Festival, part of the Conference on Dialogue of Asian Civilizations being held in Beijing, is attracting gourmets and gourmands from 56 countries and regions across the world to tuck into Chinese cuisine and delicacies from other parts of Asia.
Running from May 15 to 22, the week long festival features a wide range of events designed to foster cultural exchange, including forums, food-tasting tours, themed exhibitions, exchanges among chefs, as well as a 3D light show.
In addition to local food, around 400 exhibitors that specialize in Japanese, Korean, Malaysian, Indian, Australian and Spanish cuisines, as well as other Asian delicacies, are offering their signature dishes at the 11,000-squre-meter exhibition show.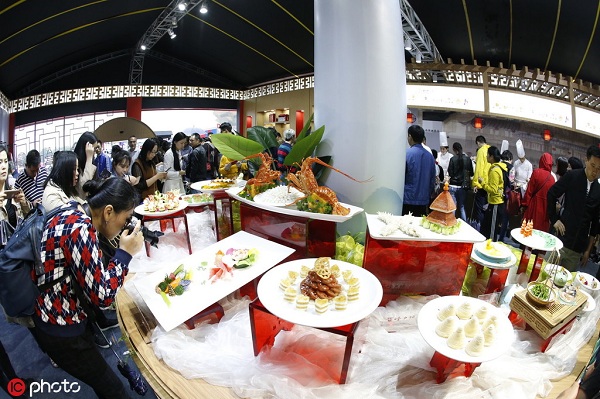 A visitor takes photos of Asian cuisines displayed at an international food culture exhibition at the "Taste of Hangzhou" Asian Cuisine Festival in Hangzhou, Zhejiang province, on May 15. [Photo/IC]