Hangzhou 5G Innovation Park welcomes first projects
The China (Hangzhou) 5G Innovation Park, located in Zhejiang Hangzhou Future Sci-Tech City, is China's first innovation park to be covered by 5G network and equipped with everything necessary for 5G research and production. [Photo/zjol.com.cn]
The China (Hangzhou) 5G Innovation Park, China's first innovation park to be covered by 5G network and equipped with everything for 5G research and production, opened in Hangzhou, Zhejiang province, on May 28.
Altogether 32 projects focusing on planning and design, equipment components, and market applications signed agreements to set up operations in the park.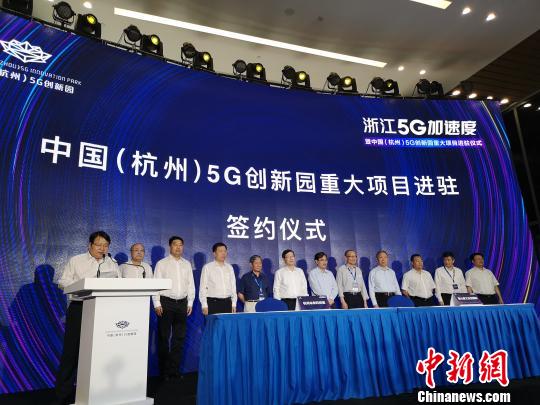 The signing ceremony for projects coming to China (Hangzhou) 5G Innovation Park is held at a conference in Hangzhou, Zhejiang province on May 28. [Photo/chinanews.com.cn]
The East China operational headquarters of Foxconn Industrial Internet Co Ltd, a subsidiary of Foxconn Technology Group, was among the first batch of companies.
The headquarters, which will focus on the construction of industrial internet platforms, industrial cloud research and development, talent cultivation, and application, will strive to provide effective solutions for manufacturing companies in the Yangtze River Delta region and the country as a whole by leveraging the advantageous geography and abundant resources of Hangzhou, said Zheng Hongmeng, CEO of Foxconn Industrial Internet Co Ltd.
"While Hangzhou Future Sci-Tech City is endowed with a mature internet ecosystem, the 5G innovation park can provide us with the infrastructure necessary to support 5G innovation," said Tao Xinwu, president of a Hangzhou-based technology firm, adding that the company is working together with China Mobile to build a demonstration line for unmanned aerial vehicles.
Aside from innovative startups, an array of 5G service platforms including the China Academy of Information and Communications Technology 5G (Hangzhou) Research Center, China Mobile 5G Innovation Center and a 5G Open Laboratory will also be opened in the park.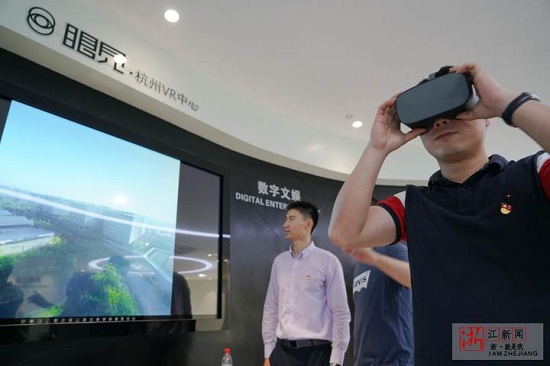 A visitor experiences virtual reality technology at the newly-opened China (Hangzhou) 5G Innovation Park in Hangzhou, Zhejiang province, on May 28. [Photo/zjol.com.cn]