Hangzhou launches intl talent club
| ehangzhou.gov.cn | Updated: 2019-06-06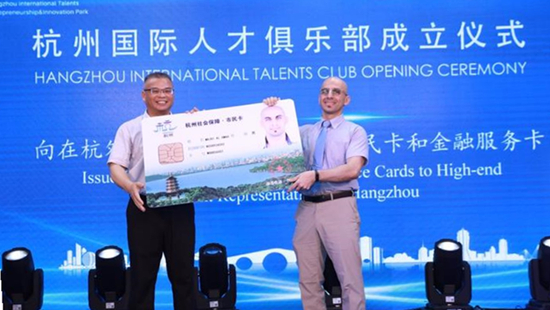 The opening ceremony of Hangzhou International Talents Club is held in Hangzhou, Zhejiang province, on June 5. [Photo/zjol.com.cn]
Hangzhou International Talents Club, a community that facilitates cooperation and understanding between Hangzhou's international professionals, was established in Hangzhou, Zhejiang province, on June 5, turning the eastern Chinese city into an attractive hub for global professionals.
The club, located in Gongshu district, will serve as a "friend circle" providing useful services for overseas professionals who live and start businesses in Hangzhou, said an official from Hangzhou Municipal Science and Technology Committe.
Over 150 overseas talents, entrepreneurs, and representatives from financial institutions attended the unveiling ceremony. Two entrepreneurs, Majdi Alhmah and Eric Koh from Hangzhou International Talents Entrepreneurship & Innovation Park, were granted Hangzhou citizen cards and financial service cards exclusively for overseas professionals.
The citizen cards will allow expats have easy access to many local services, including parks, gyms, public transport and scenic spots.
Overseas entrepreneurs from the United States, Singapore, Canada, Germany and Japan are mainly engaged in the biomedicine and digital economy sectors, said an official from Gongshu district, adding China's great market prospects and preferential policies are of great interest to expats.
Aside from the club, an international bookstore was also launched in the park in an attempt to teach expats more about China and Hangzhou, thereby advancing cultural exchanges.
As the first bookstore open to overseas professionals and entrepreneurs in Hangzhou, it offers over 1,000 books on politics, the economy, culture and diplomacy in six languages, including English, Japanese, Russian, French, Spanish and Arabic.
Initiated in 2017, the Hangzhou International Talents Entrepreneurship & Innovation Park now houses 14 foreign-funded enterprises and over 30 international talents.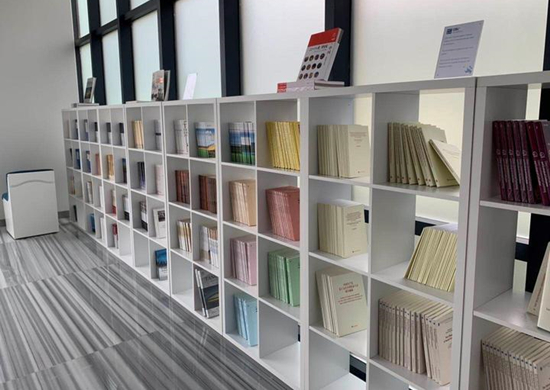 An international bookstore is launched in Hangzhou International Talents Entrepreneurship & Innovation Park, offering 1,000 books in six languages, including English, Japanese, Russian, French, Spanish and Arabic. [Photo/zjol.com.cn]