Hangzhou to bolster educational brand image
By Ma Zhenhuan and Zhou Wenting in Hangzhou | China Daily | Updated: 2019-07-29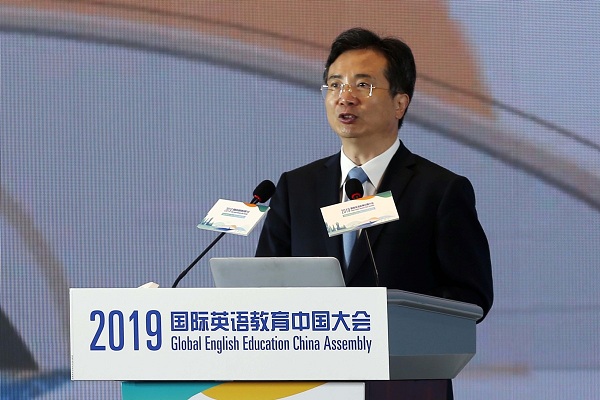 Zhou Jiangyong, Party secretary of Hangzhou, gives a speech on Friday. WANG ZHUANGFEI/CHINA DAILY
Hangzhou, capital of Zhejiang province, is accelerating its pace of building itself into an international hub for educational exchanges in order to help improve its position in the education sector both at home and abroad.
According to the three-year action plan (2019-2021) released in March by the city's educational authority, Hangzhou will adopt a series of measures including further strengthening international educational exchanges, encouraging more local teachers to receive educational training abroad and launching more international schools to cater to growing demand from expats residing in the city.
By 2021, the city will be home to 10 international schools, the plan said.
Experts agreed that education in the English language will be a key asset in developing Hangzhou into a more international city able to attract high-quality talent from around the world.
"In an effort to make the city more international, we have promoted English courses in primary schools throughout Hangzhou," said Zhou Jiangyong, the city's Party secretary, during the opening ceremony of 2019 Global English Education China Assembly, in Hangzhou, on Friday.
"Last year, 31,000 students from 125 primary schools in the city began learning English from first grade," Zhou said.
The city will also focus on building a team of English teachers with international vision and advanced foreign teaching methods, he added.
"At present, overseas training programs of English teachers have covered all stages of primary and middle schools in the city. And 100 education programs for international understanding have been established in primary and middle schools throughout the city, and this has created a sound atmosphere for English teaching and international talent training," Zhou said.
Hangzhou's attempts aimed at eventually cultivating more qualified talent to better serve the city's international development also inspired other regions in the province to follow suit.
All the English teachers in secondary schools in the city of Lishui were sent for six-week teacher training programs in the United Kingdom beginning two years ago, said Ge Bingfang, a researcher of English teaching with Zhejiang's Department of Education.
"We now require all English schoolteachers to have a 90-hours of standardized training at the provincial level at least once every five years to ensure they stay up-to-date on the latest developments in teaching practice and theory," Ge said.
The plan also encourages schools at all levels in Hangzhou to promote educational exchanges with their counterparts involved with the Belt and Road Initiative amid efforts to forge the city into a "pivotal one in educational exchanges and in the promotion of Asian culture and Chinese civilization".