China's express delivery sector to exceed 60b parcels in 2019
| ehangzhou.gov.cn | Updated: 2019-09-11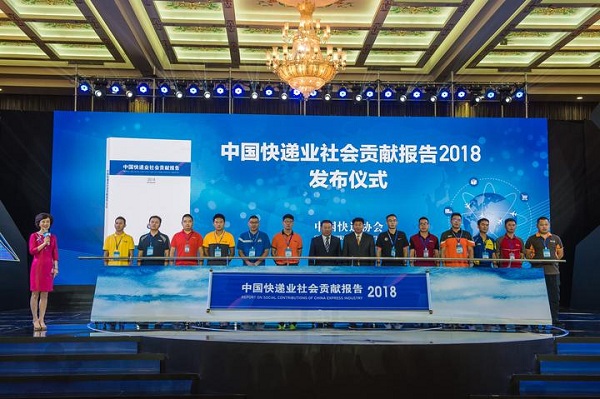 A report on the social contribution of China's express industry is released at the 3rd China Hangzhou International Express Delivery Conference in Tonglu county in Hangzhou, Zhejiang province, on Sept 10. [Photo/zjol.com.cn]
China's express delivery volume is expected to exceed 60 billion parcels in 2019, Ma Junsheng, head of the State Post Bureau, said a conference in Tonglu county in Hangzhou, Zhejiang province, on Sept 10.
The 3rd China Hangzhou International Express Delivery Conference gathered 600 leading figures and representatives of the global express industry from over 20 countries worldwide.
Statistics indicated that the total number of express deliveries in China topped 50 billion in 2018, 10 billion more than the previous year.
Gao Xingfu, vice governor of Zhejiang province, pointed out that Zhejiang had made remarkable achievements in the development of its express delivery industry in recent years -- with the volume of express deliveries above 10 billion parcels in 2018, ranking its second among all provinces (regions and municipalities) in China.
Known as home of the founders of four express delivery and logistics giants in China, Tonglu has the optimal development environment, platform and ecology for the express delivery business, said a local spokesman.
He said he believed that Tonglu should showcase the glorious development of its express industry to the whole country and the world.
During the conference, major Chinese logistics express groups signed strategic cooperation framework agreements with Tonglu to cement cooperation in recruitment, technology and projects.
Hangzhou is one of the most developed regions in the global e-commerce and express delivery industry.
With the focus on building itself into an e-commerce capital, Hangzhou now houses the regional headquarters of a number of leading global express delivery firms such as FedEx and UPS.