Hangzhou at forefront of digital economy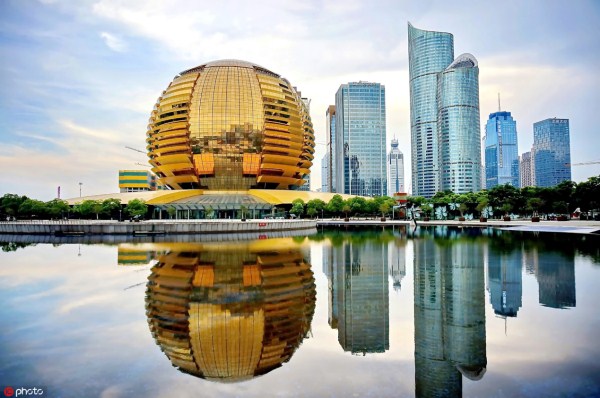 Skyline of the Qianjiang New Town in Hangzhou, capital of Zhejiang province [Photo/IC]
Hangzhou, capital of East China's Zhejiang province, has dramatically grown from a tourism-oriented city to an emerging city with a strong digital economy, according to a news conference held by local authorities on Sept 16.
The conference was held in celebration of the 70th anniversary of the founding of the People's Republic of China, highlighting the remarkable growth that Hangzhou has witnessed over the past seven decades.
Statistics show that the added value of Hangzhou's digital economy reached 335.6 billion yuan ($47.45 billion) in 2018, accounting for 24.8 percent of the city's combined GDP. It is also home to Chinese e-commerce giant Alibaba and a number of other world leading high-tech companies.
Last year, Hangzhou unveiled its ambitious plan to become the nation's foremost city in terms of digital economy, focusing on three major development paths - industrialization of digital resources, digitalization of industries, and digitalization of urban areas.
To this end, Hangzhou will focus on the innovation and application of digital technologies and increase support for major platforms and projects, according to officials.
April 27, 2021

April 23, 2021

April 19, 2021
March 11, 2021