Hangzhou gears up for 4th World Leisure Expo
| ehangzhou.gov.cn | Updated: 2019-10-12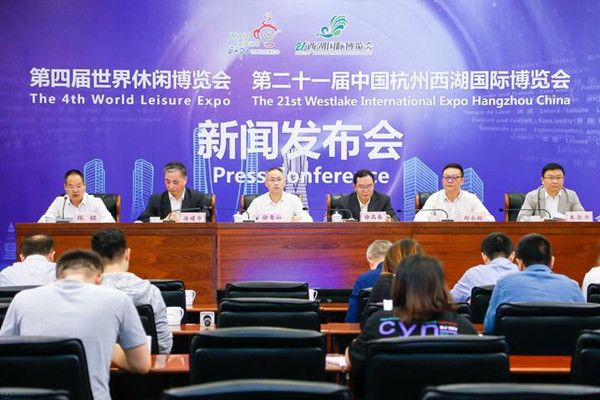 The 4th World Leisure Expo and 21th China Hangzhou West Lake International Expo will open on Oct 18, according to an announcement at a press conference held by the Hangzhou Municipal Government on Oct 10. [Photo/zj.zjol.com.cn]
The 4th World Leisure Expo and 21th China Hangzhou West Lake International Expo will open on Oct 18, according to an announcement at a press conference held by the Hangzhou Municipal Government on Oct 10.
It was back in 1929 that Hangzhou hosted the first West Lake International Expo, and in 2000, the expo began to be re-hosted in the city once a year.
In 2006, Hangzhou hosted the first World Leisure Expo in partnership with the World Leisure Organization and it has been the permanent site for hosting the expo since then.
The event will include an expo on intelligent products, a gourmet expo, an international e-commerce expo and a forum on design management, covering a total area of 110,000 square meters.
The expo, on Oct 18-20, will see a number of themed exhibitions, forums and cultural events on various topics, the organizers said.
These will look at economic development, industrial upgrading and transformation, the cultural and creative industries, the fashion industry and digital education.
Over the years, the international expo has developed into one of the most influential and competitive expos in China, the organizers added.
They said it serves as a window for Hangzhou to raise its global profile and for people from around the world to learn more about the eastern Chinese city.