Hangzhou Asian Games signs up official airline
| ehangzhou.gov.cn | Updated: 2019-10-18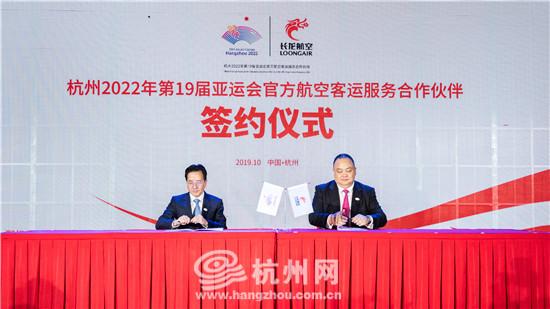 The organizing committee of the 2022 Hangzhou Asian Games signs Chinese airline Loong Air as its official airline during a signing ceremony at the Hangzhou International Exposition Center on Oct 16. [Photo/Hangzhou.com.cn]
The organizing committee of the 2022 Hangzhou Asian Games signed Chinese airline Loong Air as its official airline during a signing ceremony at the Hangzhou International Exposition Center on Oct 16.
Founded in 2011, Loong Air is the only airline based in Zhejiang province and the newest company to have signed sponsorship deals with the organizing committee of the Hangzhou Asian Games.
It operates flights from China to Asian countries including Myanmar, South Korea, Cambodia, Thailand and Vietnam.
Chen Wei Qiang, deputy secretary-general of the Hangzhou Asian Games Organizing Committee and vice-mayor of Hangzhou, expressed hope that Loong Air can integrate the concepts of environmental awareness, digitalization, frugality and civility for the Hangzhou Asian Games, and use artificial intelligence, big data and cloud computing technologies in the aviation field to provide better aviation services for athletes and referees participating in the games.
"Loong Air will strive to bring safe and efficient air passenger services to the Hangzhou Asian Games," said Liu Qihong, chairman of Loong Airlines, at the signing ceremony.
He went on to say that Loong Air has for a long time now been the subject of intense review by the Civil Aviation Administration of China and would optimize and refine services for passengers.
Currently, the organizing committee of the Hangzhou Asian Games has signed sponsorship deals with five partners in four categories.
Partners in information and cloud technology as well as financial services will be signed within the year.
By the end of this year, the marketing department of the organizing committee of the games will found a Hangzhou Asian Games sponsorship club aiming to provide a platform for all sponsoring firms to share information and resources, said officials from the department.
The 2022 Asian Games is the 19th time that the games have been held and will take place from September 10-25 in Hangzhou, capital of East China's Zhejiang province.