Art on display at Hangzhou intl art festival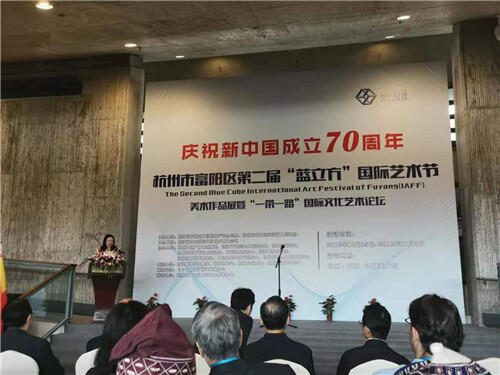 The 2nd Blue Cube International Art Festival of Fuyang (IAFF) opens on Oct 25 at the Gongwang Art Museum in Fuyang district, Hangzhou. [Photo/zjol.com.cn]
The 2nd Blue Cube International Art Festival of Fuyang (IAFF) opened on Oct 25 at the Gongwang Art Museum in Fuyang district, Hangzhou and will run until Nov 1.
More than 30 artists from 10 countries involved in the Belt and Road Initiative, including the UK, the Netherlands, Turkey, and Nigeria, showcased their works at the festival.
The event was sponsored by the office for cultural innovation of Fuyang and the government of Luzhu town, Fuyang district, and was hosted by Zhejiang Blue Cube International Culture and Art Co.
At the opening ceremony, Zhejiang Blue Cube International Culture and Art Co signed a deal with a delegation from Edo State, Nigeria to establish a training center for African art in Fuyang.
Around 200 artworks, including calligraphy, paintings, and sculptures, were put on display as part of the festival.
The festival also included an international forum on art, where esteemed artists discussed trends in Chinese cultural industries.
Other activities encouraging attendees to carry out exchanges and seek inspiration will also be held during the event.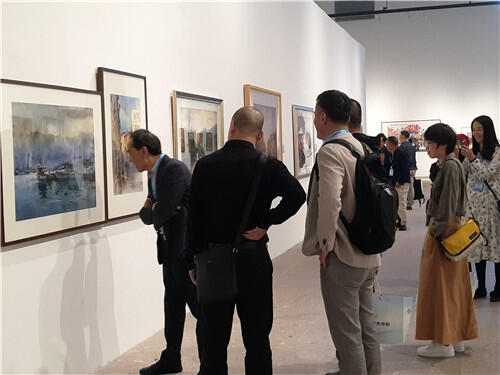 Visitors admire paintings on display during the 2nd Blue Cube International Art Festival of Fuyang, which opened on Oct 25 at the Gongwang Art Museum in Fuyang district, Hangzhou. [Photo/zjol.com.cn]