Experts from B&R countries discuss agricultural issues in Hangzhou
| ehangzhou.gov.cn | Updated: 2019-12-03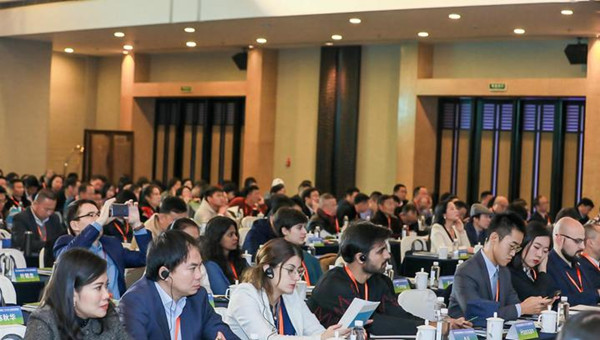 Representatives attend the first Belt and Road Initiative Agricultural and Rural Development Forum to discuss agricultural issues in Yuhang district, Hangzhou on Dec 1. [Photo/zj.zjol.com.cn]
More than 300 experts and entrepreneurs from countries involved in the Belt and Road Initiative gathered at the first Belt and Road Initiative Agricultural and Rural Development Forum to discuss agricultural issues in Yuhang district, Hangzhou on Dec 1.
Attendees shared their insights into topics as agricultural reform, waste sorting, digital agriculture, inclusive finance and block chain.
The Food and Agriculture Organization of the United Nations (FAO) was one of the organizers of the forum.
Yao Xiangjun, FAO regional program leader, said that there is a lot of room for countries to cooperate in grain resources and stressed the important role of digital technology in improving food security.
Digital technology can help improve productivity and upgrade the patterns of agricultural production, allocation and management, she added.
Warwick Powell, founder of block chain security and payments platform BeefLedger, delivered a lecture on the application of block chain in supply chains.
Powell argued that block chain technology is the best way to decrease the inconsistency of information and can make cross-border payment more convenient and effective.
Waste sorting was another popular topic at the forum. Zhai Guohong, project director of Zhejiang Lianyun Environment Engineering Co Ltd, shared how his company applied digital technology in waste sorting in rural areas.
The forum also saw the release of a report outlining efforts to integrate primary, secondary and tertiary industries in rural areas.
During the forum, Yuhang district was granted the title of "National Demonstration Base for Agricultural Technology Entrepreneurship and Innovation" by the China National Union for Innovation and Entrepreneurship in Agricultural Science and Technology.
The China National Union for Innovation and Entrepreneurship in Agricultural Science and Technology also signed a cooperation agreement with the Yuhang bureau of agriculture and rural affairs. Both sides will work together to develop agricultural technology, train skilled workers, and introduce new projects.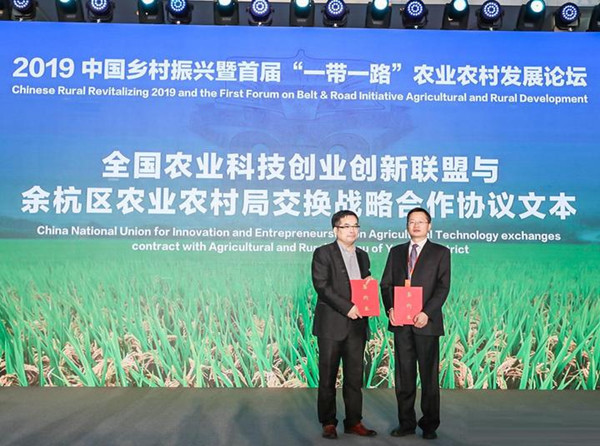 The China National Union for Innovation and Entrepreneurship in Agricultural Science and Technology signs a cooperation agreement with the Agricultural and Rural Affairs Bureau of Yuhang District. [Photo/zj.zjol.com.cn]