Alibaba Cloud honored by national science awards
| ehangzhou.gov.cn | Updated: 2020-01-13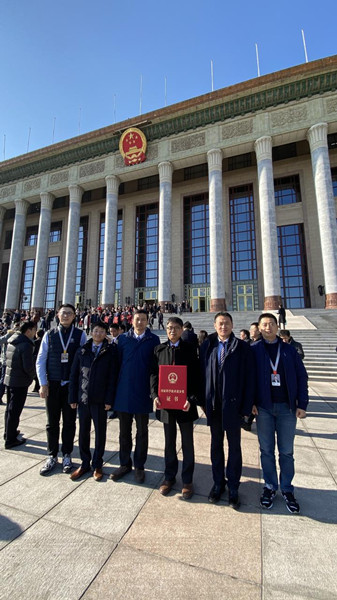 The winning research team of Alibaba Cloud Computing Co Ltd, an arm of Alibaba Group, poses for a photo in front of the Great Hall of the People on Jan 10 after being granted national science awards. [Photo/zj.zjol.com.cn]
Alibaba Cloud Computing Co Ltd, an arm of Alibaba Group, was honored with the National Award for Technological Invention and the National Award for Progress in Science and Technology at the annual ceremony held in Beijing on Jan 10 to honor distinguished scientists, engineers, and research achievements.
This is the first time a Chinese internet company has received two national science awards at the ceremony, and also the first time an internet company has received the National Award for Technological Invention.
In November 2019, Wang Jian, chairman of the Alibaba Technical Committee, was elected a member of the Chinese Academy of Engineering.
This suggests that private companies such as Alibaba are becoming a major driving force behind scientific innovation in China.
Over the past decade, Alibaba has invested a lot into scientific research, efforts which are now beginning to pay off.
In 2009, Alibaba began implementing their cloud computing research strategy. Ten years later, Apsara, a cloud computing system funded by Alibaba Cloud Computing Co Ltd, was given a special award for scientific and technological progress by the Chinese Institute of Electronics.
In 2010, Alibaba began researching how to build cloud databases, and 10 years later, the company's Oceanbase database has become the best performing cloud database in the world.
Alibaba is the only well-known tech company in the world whose employees are made up mostly of researchers.
Alibaba employs more than 60,000 scientists and engineers, more than 10 of whom were fellows at the Institute of Electrical and Electronic Engineers and 30 of whom were professors at prestigious universities.
Moving forward, the group will intensify its efforts in artificial intelligence, block chain, quantum computing, autonomous driving, databases, and chip technology.