Hangzhou shines at Chinese New Year temple fair in Nottingham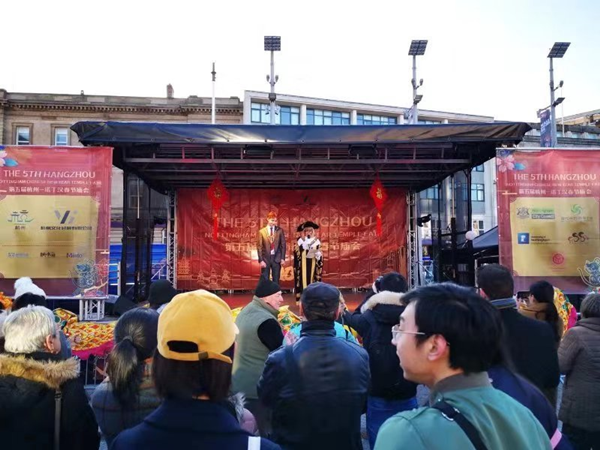 The fifth Nottingham Chinese New Year Temple Fair is held by the Nottingham City Council in Nottingham, UK on Jan 18. [Photo provided to chinadaily.com.cn]
Hangzhou culture was showcased at the fifth Nottingham Chinese New Year Temple Fair held in Nottingham, UK on Jan 18.
Temple fairs, also known as miaohui, are large gatherings where Chinese people celebrate traditional Chinese festivals such as the Spring Festival. The Nottingham City Council has been organizing the Chinese New Year Temple Fair since 2016 with the aim of helping local citizens better understand traditional Chinese culture and enrich city life.
Visitors participating in the event were offered opportunities to watch kung fu demonstrations, dragon dancing, and tea ceremonies, as well as try out some traditional arts and crafts and authentic Chinese cuisine.
The temple fair also featured a variety of cultural products and Chinese delicacies displayed by more than 40 companies. During this year's event, the Hangzhou Cultural and Creation Industry Exchange Centre (UK) led a number of cultural brands from Hangzhou to participate in the event.
More than 100 cultural products in Hangzhou were showcased at the event.
Many British locals expressed amazement at the cultural products from Hangzhou, with some even saying that it was their first time they had ever seen such products.
Many local residents and companies left their contact information in hopes of continuing contact with the Hangzhou cultural brands.
The event attracted more than 100,000 visitors and was covered by media organizations in the UK such as BBC and iTV, as well as the China Global Television Network (CGTN).
The Hangzhou Cultural and Creation Industry Exchange Centre (UK) is expected to play a bigger role in promoting cultural exchange between Hangzhou and Nottingham.