First batch of Hangzhou companies resumes operation
| ehangzhou.gov.cn | Updated: 2020-02-12
A total of 1,462 companies in Hangzhou were approved by the Hangzhou government to resume operations on Feb 10.
On that day, the Hangzhou government released a series of policies to help local companies resume operations, and revealed a list of companies that would be allowed to restart operations.
The companies included leading beverage-maker Hangzhou Wahaha Group, home appliance maker Robam, XIZI UHC, and Hangzhou Hikvision Digital Technology Co Ltd.
All the companies had launched measures to curb the spread of the epidemic among employees.
At Hangzhou Hikvision Digital Technology Co Ltd, the temperature of every employee needs to be checked and every worker is required to wear a face mask before entering the building.
The company disinfects the work space every day and keeps it ventilated. Executives of the company said that they designed a set of regulations to prevent the spread of the virus.
Like Hikvision, Robam also requires its employees to have their temperatures checked, wash their hands, and wear face masks before entering the workspace.
Robam executives said that they will check employees' health conditions every day and share the information regularly.
To avoid close contact between employees when dining, Hangzhou XZB Co Ltd is requiring its employees to sit apart and not converse with each other. Its employees are divided into different meal shifts and each group must finish eating within 20 minutes.
Cooks working at the company's canteen receive medical examinations several times a day, and vegetable suppliers are not permitted to enter the industrial park. Vegetables will be transported to the company's canteen by the cooks themselves.
Though the epidemic presents challenges for companies, some entrepreneurs see it as an opportunity.
"We need to set an example for companies resuming operations in the future and help restore their confidence," said Zhang Zhong, senior human resources manager of Betta Pharmaceuticals Co Ltd.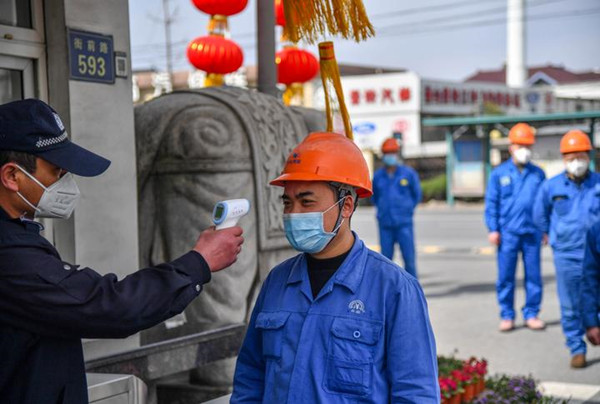 A worker gets his temperature checked in Hangzhou. [Photo/zj.zjol.com.cn]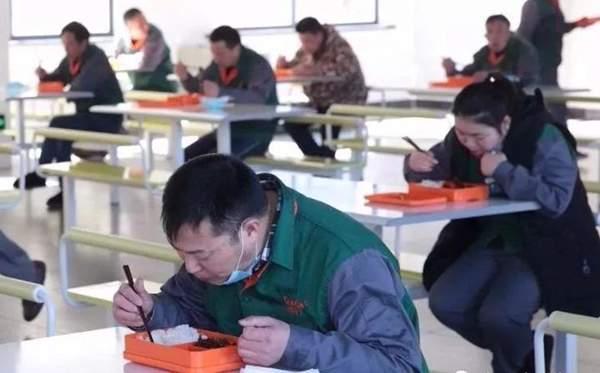 Workers at a company in Zhejiang province sit separately while eating. [Photo/zj.zjol.com.cn]