Hangzhou e-commerce companies join fight against epidemic
| ehangzhou.gov.cn | Updated: 2020-02-13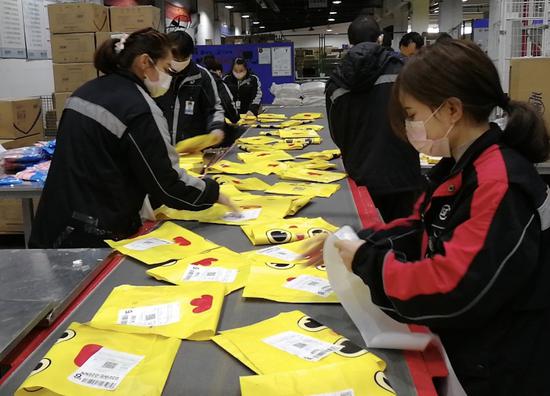 Workers at a Hangzhou e-commerce company pack face masks. [Photo/zj.chinanews.com]
More than 100 e-commerce companies in Hangzhou have joined the fight against the current epidemic, according to a local media report.
Hangzhou e-commerce companies have been making an active effort in the prevention and control of the novel coronavirus pneumonia by donating protective medical gear which is currently in low supply in Wuhan, the center of epidemic outbreak.
Zhang Lianglun, chairman of Hangzhou e-commerce company Beibei Group, said that their aim was to purchase 1 million sets of medical protective gear, including N95 face masks and surgical masks, and deliver them to infection-ravaged areas. Zhang is also the leader of the special team set up by the company to deal with donation issues.
The first group of 100,000 surgery masks were recently delivered to Wuhan hospitals. Meanwhile, the group barred sellers of protective gear on its platform from increasing their prices.
"Most of sellers have agreed not to increase the prices of face masks, goggles and other relevant protective gear," Zhang added.
According to Yu Jie, president of Hangzhou Higob Co Ltd, they managed to purchase 100,000 3M face masks after contacting more than 170 suppliers around the world and donated them to Wuhan.
"I have never seen the employees working so hard. They made over 500 telephone calls and worked around the clock," Yu added emotionally.
As a world-leading e-commerce company, Alibaba Group launched a matchmaking platform on Feb 5 to call on middle and small-sized companies around the world to join the fight.
The platform publicizes protective gear shortages and collects production capacity information from global companies.
Alibaba donated supplies collected from global companies to designated hospitals. Meanwhile, the group teamed up with global logistics partners to formulate specific delivery solutions.
As of Feb 3, Alibaba had sent the supplies directly to 18 hospitals in Hubei, Zhejiang and Anhui provinces.
The general office of the China Hangzhou Cross-Border E-commerce Comprehensive Pilot Area has recently established an association involving Hangzhou e-commerce companies to mobilize resources and seek protective medical gear from across the globe.
The association has donated 760,000 face masks to people in Hubei province and other parts of the country.
"At present, nearly 100 Hangzhou e-commerce companies are sharing their customer resources with other companies," said Wu Changhong, director of the public relations department of the general office at the China Hangzhou Cross-Border E-commerce Comprehensive Pilot Area.
"The most important thing now is to solve the shortage of protective medical gear. We hope to collect more supplies through cross-border e-commerce channels," Wu said, "the money we collect will also be used to buy face masks, protective suits, disinfectors and other supplies, and we will deliver them to hospitals as soon as possible."