Hangzhou presses ahead with efforts to deepen reforms
| ehangzhou.gov.cn | Updated: 2020-03-26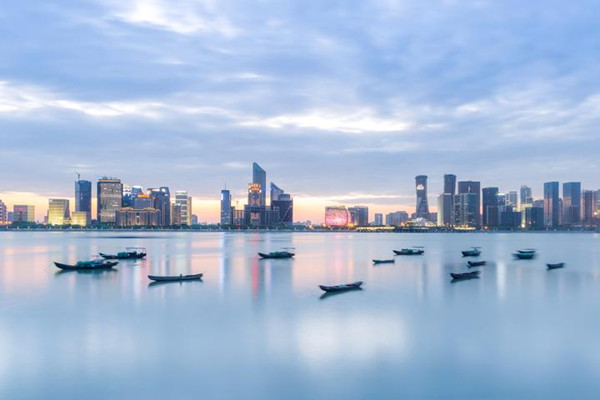 Boats on the Qiantang River in Hangzhou [Photo/zj.zjol.com.cn]
Hangzhou will continue to promote growth in all fields by moving forward with reforms, said Zhou Jiangyong, Party secretary of the city, at a meeting on March 20.
Over the past year, Hangzhou has made remarkable achievements in carrying out reforms to boost the growth of digital economy, improve the business climate and public services, and promote construction on the intelligent City Brain platform.
Hangzhou ranked No 1 among all cities in Zhejiang province in terms of the number of best reform practices conducted in the city, and the city placed fifth among all Chinese cities in terms of business climate in 2019.
This year, Hangzhou will focus on more than 30 reform projects, aiming to improve the city's social governance, public health, emergency response capabilities and management of the migrant population.
In the economic sector, Hangzhou will make continuous efforts to improve the business climate, aiming to meet the best international standards.
The city will lay emphasis on developing both digital economy and manufacturing and will accelerate its pace in building the National Pilot Area for Innovative Development of New-generation Artificial Intelligence.
It will promote construction on digital technology-related infrastructure, including 5G base stations and infrastructure for industrial internet of things.
According to this year's plan, Hangzhou will also strengthen its services for companies by improving Qinqing Online, a platform providing direct links between the government and companies.
The plan also mentions that the city will aim to develop new economic models such as internet celebrity consumption, custom-made consumption and stay-at-home consumption in an attempt to fully unleash the city's economic potential.
Digital governance will continue to be key in this year's reforms and development. Hangzhou will continue to boost the development of 12 new application scenarios, including the City Brain platform and its public transportation coordination system.
Hangzhou has long been emphasizing the "at most one visit" reform, which requires government departments to streamline administrative approval procedures and reduce the number of required visits to the local authorities.
At the meeting, officials said that Hangzhou will make efforts to solve problems created by the fight against the epidemic.
The city will make up for its weaknesses by enhancing its grassroots-level governance system, particularly when it comes to the disposal of garbage and logistics in residential communities.
Regarding ecological preservation, officials said that Hangzhou will promote the building of the Chun'an Special Ecological Function Area.