Cargo plane an angel of mercy for Russia
By Ma Zhenhuan in Hangzhou | chinadaily.com.cn | Updated: 2020-03-26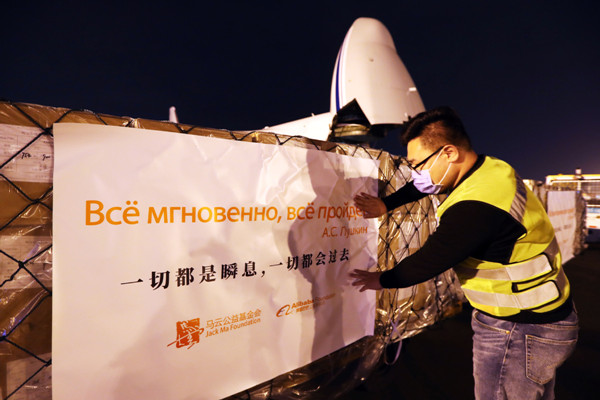 A large transport plane that landed on Tuesday in Hangzhou, Zhejiang province, will carry donated materials back to Russia to help in the fight against the coronavirus. [Photos provided to chinadaily.com.cn]
A giant Antonov An-124 transport plane landed at Xiaoshan International Airport in Hangzhou, Zhejiang province, on Tuesday to carry a full load of anti-epidemic materials to Russia. The materials were donated by the Alibaba Foundation and the Jack Ma Foundation.
The shipment includes face masks, test kits and protective suits for senior citizens and government agencies in Russia.
"In a moment, passes sorrow; that which passes will be dear." This well-known phrase by Russian poet Alexander Pushkin was posted on each parcel, conveying good wishes from the China to the Russian people in their fight against COVID-19.
The number of novel coronavirus cases in Russia stood at 658 as of Wednesday, after 163 new patients tested positive.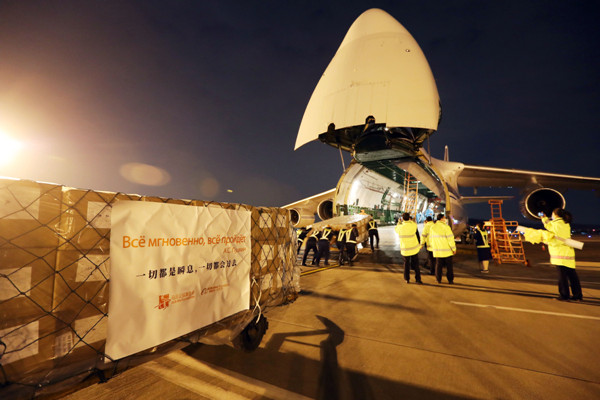 A large transport plane that landed on Tuesday in Hangzhou, Zhejiang province, will carry donated materials back to Russia to help in the fight against the coronavirus. [Photos provided to chinadaily.com.cn]