Xixi National Wetland Park
| ehangzhou.gov.cn | Updated: 2020-04-22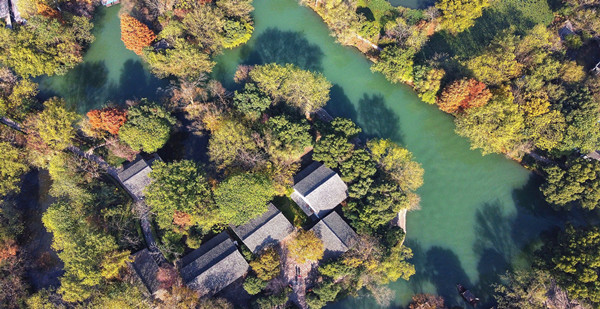 Xixi National Wetland Park [Photo/IC]
This well-known spot is one of the three "xi", or "Sanxi" of Hangzhou, with West Lake (the Chinese character for "west" is pronounced "xi") and the Xiling Seal-Engravers Society being the other two. The wetland park covers an area of 10 square kilometers and is located in western Hangzhou, less than 5 km from West Lake. It is China's first and only national wetland park to combine urban life, farming, and wetlands.
The park has a history of 1,800 years and is believed to have been discovered during the Eastern Jin Dynasty (317-420). It flourished during the Ming and Qing dynasties but experienced a decline in modern times before being brought back to life recently. In the past, it was popular among many authors, who drew inspiration from the quietness and solitude it offered.
Hangzhou first proposed developing the park in late 2004 in response to the nation's call to protect wetlands and was approved in February. The park eventually opened on May 1, 2005.
The government is also working to protect the Xixi wetland by implementing a series of measures including relocating more than 4,000 households within a range of 11.5 sq km to ease the ecological burden on the wetland and comprehensively improving the local environment.
The park, rich in natural resources, was listed as one of the Ramsar Wetlands of International Importance on Nov 3, 2009. Water makes up 70 percent of the park's area, creating a special habitat for various plant and animal species. It is intersected by six creeks, which spill over into various ponds, lakes, and swamps.
There are currently 696 types of vascular plants in the wetland, 475 more than in 2005, while the number of insect species has increased by 390 to 867 and the number of bird species has increased by 112 to 181. The wetland is also home to two animals under first-level State protection – the oriental white stork and the white-tailed sea eagle – as well as 20 animals and four plants under second-level State protection.
The government of Hangzhou has tried to develop its tourism and cultural industries while also protecting the wetland by establishing five cultural festivals. The wetland park receives nearly 5 million tourists every year, generating more than 300 million yuan ($42.35 million) in annual revenue and creating around 1,500 jobs.
"The protection of the Xixi wetland serves as a good model for other wetlands around the world," said Peter Bridgewater, former secretary general of the Ramsar Convention on Wetlands.
Location: No 518 Tianmushan Road, Xihu district, Hangzhou
Bus line: K506, K310, Y13K193, K823, Sightseeing 1, K356, K830, K86
Phone: +86-571-88106696
Ticket price: 80 yuan (boat rental not included)
Hours:
April to October: 7: 30-18: 30
November to March: 8:00-17:30