Zhejiang top official inspects work on tech innovation
| ezhejiang.gov.cn | Updated: 2020-05-22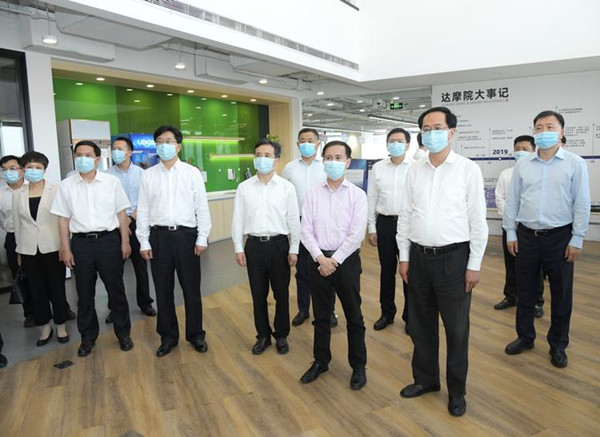 A delegation led by Che Jun (first from right), Party secretary of Zhejiang province, visits the Damo Academy at Alibaba Group in Hangzhou, to learn about the academy's work in conducting scientific research and training talent. [Photo/zj.zjol.com.cn]
A delegation led by Che Jun, Party secretary of East China's Zhejiang province, inspected local work related to skilled workers and scientific research in Hangzhou, capital of the province on May 18, according to local officials.
During his visit, he stressed that all departments in Zhejiang should have a firm belief in developing the province by tapping into their skilled workers and into innovation.
He said that Zhejiang should accelerate its efforts to develop itself into a high-level innovation province.
The delegation first visited the Damo Academy of the Alibaba Group, which has brought together a large number of scientists from home and abroad to engage in basic scientific research.
Over the past two years since its foundation, the academy has carried out more than 500 scientific projects in partnership with over 100 world-class universities.
Che saw demonstrations of some of its projects including an intelligent CT diagnosis of the novel coronavirus, applications of the Hangzhou City Brain system and artificial intelligence chips.
During Che's visit at the Damo Academy, he said that Zhejiang still fell short of basic science research and core technologies. He urged the Damo Academy to strengthen its efforts to achieve even more in scientific studies.
Che also visited Hangzhou Ruhr Technology Co, a company focusing on research into internet of things security. Che was impressed by the company's claim to over 100 patents on internet of things security.
The Party secretary said that people should regard scientific innovation as the most significant and sustainable form of competitiveness, to confront the challenges brought about by the new round of scientific revolution and industrial reform.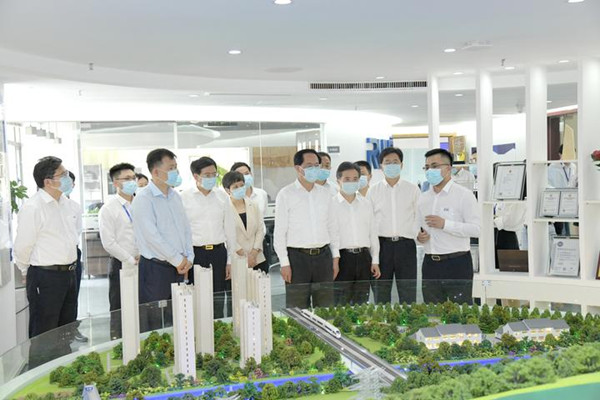 The delegation visits Hangzhou Ruhr Technology Co on May 18, a quasi-unicorn focusing on research in internet of things security. [Photo/zj.zjol.com.cn]