Chinese pastry chef envisions a sweet life as a fondant artist
By LI YINGXUE | China Daily | Updated: 2020-05-27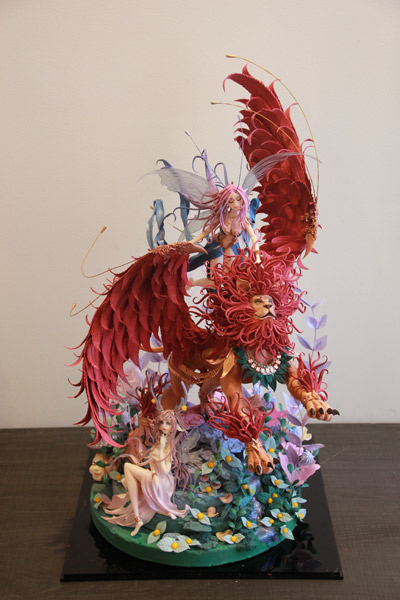 The "magic forest" piece that won him a top prize at a cake show in Australia in 2018. [Photo provided to China Daily]
A platter of sashimi, a dish of sweet and sour octopus and a plate of Japanese-style fried dumplings. They all look delicious, but none of them is what they seem.
They are fondant.
Zhou Fei, 26, made these pieces of fondant art for the variety show Qiaoshou Shentan (meaning "the craft detectives"). The five "detectives" in the show found it difficult to tell them apart from the dozen or so genuine Japanese dishes placed in front of them.
Zhou frankly admits that he was a bit nervous when they examined the dishes closely, but he had the confidence.
"To reveal fondant impostors among a dozen real dishes is a fresh idea and exciting for the detectives, so they were so keen to find them," Zhou recalls.
In each episode of the show, the work of three craftsmen will be hidden among everyday objects or situations. The one whose work is least easiest for the detectives to identify wins the title of the best craftsman.
Zhou-with his fondant fakes-won, beating dough modeling master Zhang Beiyuan, and magician Weng Dazhi, better known as Raymond Long. Zhou is also the youngest craftsman on the show so far.
"They are all masters in their own field, and I communicated with, and learned from, them during the filming of the show," Zhou says.
"There are many similarities between fondant and dough modeling, and Zhang invited me to visit his studio later."
With seven years' experience in fondant art, in Zhou's eyes, fondant can be used to emulate everything except transparent materials.
Zhou has made imitation accessories, flowers and articles of daily use from fondant, and the reason he chose to make Japanese cuisine on the show is that "I've never made it before, so it's challenging".