QuVideo Co Ltd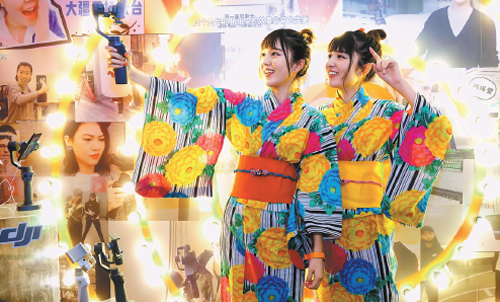 Two Japanese vloggers pose at VivaVideo's launch ceremony in Beijing. [File photo/China Daily]
Video-editing app VivaVideo, developed by Hangzhou internet company QuVideo, provides users with mobile video creation tools and services, and allows them to edit short videos and post them online. The app has become a hit in recent years.
QuVideo was among the first batch of Chinese internet-based companies to go global. In 2013, the company saw surging demand for "self-expression via video" in overseas markets, pushing it to establish branches and subsidiaries abroad.
In January 2013, QuVideo's mobile app VivaVideo was launched overseas. Nine months later, its business expanded across countries and regions participating in the Belt and Road Initiative.
In 2014, grasping the opportunities brought by the soccer World Cup in Brazil, it launched a Portuguese version of VivaVideo, which then ranked first on the most downloaded local video app list released by Google Play.
The breakthrough in the Brazilian market boosted the company's confidence that it could succeed overseas. It went about accumulating international experience, and within two years, VivaVideo had posted exponential growth in the number of its overseas users.
By the end of 2015, the number of people using the app surpassed 100 million. Earlier this year, it exceeded 1 billion. During the epidemic prevention and control period, the number has grown constantly.
Currently, the company's video-editing products are available in North America, Southeast Asia, Brazil, Europe, the Middle East, and Northeast Asia, covering more than 200 countries and regions worldwide.
In 2019, the company's overseas revenue surpassed 100 million yuan ($14 million), up 50 percent year-on-year. The compound annual growth rate of its sales revenue in the past three years surpassed 50 percent.