Visioning China: Chinese Export Decoration Art from the 17th to 20th Centuries
| govt.chinadaily.com.cn | Updated: 2020-05-29
Editor's Note: China's Best Museum Exhibitions of 2019 Awards were recently unveiled. Twenty-nine winners distinguished themselves in five categories. Organized by the National Cultural Heritage Administration, the Chinese Museums Association, and China Cultural Relics News, the annual event, dubbed the Oscar Awards in China's cultural relics realm, has now completed its 17th run since its inception in 1997, receiving 114 applications from various types of museums in 28 provinces, autonomous regions, and municipalities and hitting a historical high despite the overwhelming COVID-19 pandemic.
The winning exhibitions cover a wide range of themes, including art, science, history, natural history, and modern revolutionary history, and offer various perspectives on and interpretations of artistic, historical, or scientific collections. Notably, two categories of awards are dedicated to international joint exhibitions to promote cross-cultural understandings between China and the rest of the world.
Visioning China: Chinese Export Decoration Art from the 17th to 20th Centuries
海市蜃楼——17至20世纪中国外销装饰艺术展
Dates: Sept 7- Dec 8, 2019
Location: Hangzhou Arts and Crafts Museum, Hangzhou city, Zhejiang province
From the 17th to the 20th centuries, a large number of colorful and exquisite artworks made in China went viral in Europe, America and other parts of the world. The material exchanges in the wake of large-scale trade between China and the West triggered tremendous cultural exchanges, in both width and depth.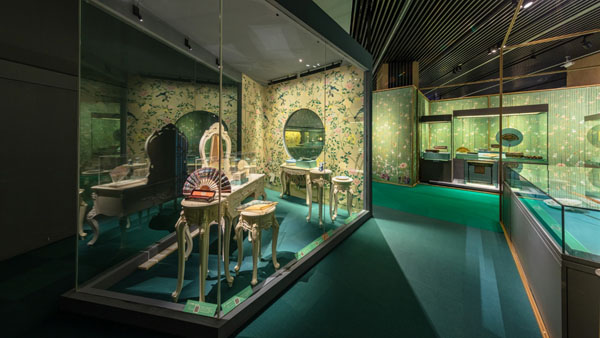 Display of Chinese export crafts in the gallery [Photo provided to chinadaily.com.cn]
The exhibition integrated collections of eight state-owned museums and private collectors, focusing on the "image history" of exports of decorative arts and crafts, and examining China's rise in the history of the initial globalization.
The exhibition began with the Mysterious East and went on to briefly describe the development of Sino-Western maritime trade. Taking the history of images on export arts and crafts as the main theme, the exhibition narrated Chinese Sentiment, Design in accordance with Commissioned Sample, and Diversity by systemically displaying collections of illustrations and objects that manifested Chinese influence on European society and contemporary art and design.
It broke the limitations of traditional research on exportation which centered on the type of export products and their artisan value, adopting "image examination" and "cross-cultural study" from the perspective of visual cultural history as the research methods for curation, and complemented the narrative with detailed economic and social history materials.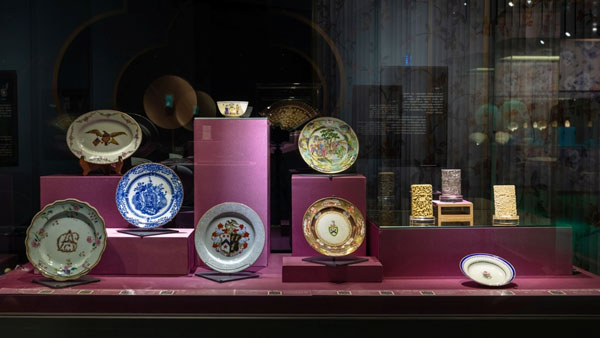 Products made according to foreign commissioned samples [Photo provided to chinadaily.com.cn]
The exhibition explored stories from the images to realize the dual interpretation of "physical evidence" and "graphic evidence", and "past" and "today".
The exhibition space combining historical reality and imaginary fantasy revealed the design concept of immersive "theatrical scenes".
The exhibition was well-crafted and had a rich texture. It was cleverly integrated into the new media and reasonably suitable and bright. It also developed a series of offline public education, corresponding live streaming programs and online virtual tours of the exhibition, harnessing comprehensive media to widen its reach.