Intelligent Manufacturing Innovation and Entrepreneurship Industrial Park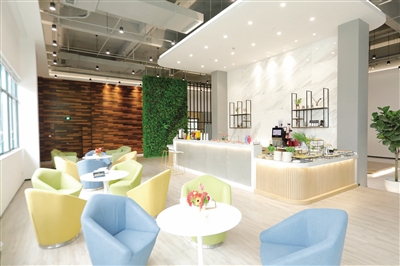 A rest area in the Intelligent Manufacturing Innovation and Entrepreneurship Industrial Park in Qianjiang Economic Development Zone [Photo/hzdaily.hangzhou.com.cn]
The Intelligent Manufacturing Innovation and Entrepreneurship Industrial Park, located at the heart of the Qianjiang Economic Development Zone, was put into use in June 2019 and covers an area of 20,000 square meters.
The park was designed in line with the Qianjiang Economic Development Zone's focus on intelligent manufacturing and has made developments in new equipment, new energy and new materials.
It aims to build an open and welcoming environment in which high-tech companies can fulfill their potential in product research, development and manufacturing.
Companies engaged in a wide range of fields such as mobile networking, technological innovation, medical science and technology, and artificial intelligence have settled in the park, where they enjoy preferential policies announced by the local Yuhang district related to talent subsidies, housing allowances and financial support, as well as office rent subsidies offered by the Qianjiang Economic Development Zone.
Eplus Packing, one of the first companies to settle in the park last year, has experienced rapid growth and development due to the suitable environment provided by the park. It has produced several high-end packing devices and generated annual output of over 30 million yuan ($4.2 million) by collaborating with renowned companies such as Nestle and Unilever.