Why does a polyglot Chinese masters degree holder want to be a nanny?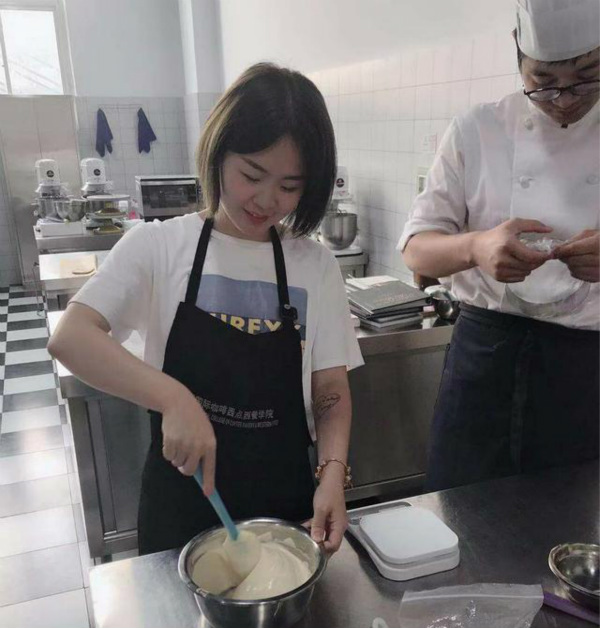 Liu takes a pastry class. [Photo/Beijing News]
A young Chinese woman with a master's degree, overseas working experience and proficiency in two foreign languages has decided to switch career paths and become a babysitter, triggering a question: Why?
Liu Shuang has recently posted her resume on an online service platform, looking for a job as a babysitter. But she's not your typical candidate.
She has worked at a large multinational company and had a stint as an account manager in Guinea. She's done management training and taken up an offer as an early childhood education. She's also fluent in English and French.
It's safe to say that with her young age and academic and professional background, Liu doesn't exactly fit into the stereotypical image of a nanny in China, a job usually associated with older women and manual work around the house. Many online said the young woman was overqualified for the task, others wondered why she'd forgo occupational prestige, an aspiration for an overwhelming majority in China and around the world.
But the 32-year-old woman doesn't mind being called "Nanny Liu," and her decision to go down this new road, she says, is the result of her reordering her priorities in life.
Liu admits she's been struggling to settle down for quite some time.
In 2016, she moved to Shenzhen, one of the fastest developing cities in China, to work at the headquarters of her company. But the living cost was too high and Liu and her family relocated to Hangzhou, in the country's east, as she looked for a better quality of life and a suitable environment for her children.
After a few sales jobs and some time teaching English at an early education center in 2018, she decided to reconsider her career options.
Babysitting wasn't something she expected she'd grow interest in. She used to have a nanny herself at home, and through interaction with her, she found that housekeeping requires sound communication skills and a mastery in organization, which ticked the right boxes for Liu.
With China's middle class fast expanding, the job requirements for a babysitter have evolved. Now, domestic workers not only look after children, they double as private teachers, helping the little ones with homework and learning new languages, on top of fulfilling more traditional tasks such as cleaning and cooking but also organizing the house.
Liu told news outlet Beijing News one's qualifications do not reflect one's ability but are a testament to their adaptability to learning new things. She insisted that interests outrank capabilities, and that she's bringing something new to the table: a proven track record in early education and foreign language teaching. Living abroad has helped her acquire cross-cultural communication skills and adapt fast to unfamiliar environments.
Liu's husband has been very supportive but it took a long time for her mother to understand why her daughter, with a college degree, chose to "serve people."
"You don't have to be too formal, you can be more easy going and find ways to get along with the family. It's a form of long-term cooperation," Liu told the news outlet.
"Some customers worry that my high education will make me not last long as a nanny but I have already thought it through and am determined to engage in this new industry. I am young and have many years ahead in the industry."
Her clients are usually white-collar couples with a tight schedule and not enough time to spend at home. They look for quality company for their children, and Liu can offer that. Her sales pitch is the guarantee to ensure children are entertained, listened to, taken care of and encouraged to learn. And that promise lands Liu a monthly salary of 20,000 yuan (2,800 U.S. dollars) for a 9-to-5 weekends-off job.
"Does a high degree of education necessarily equate to a higher profession? I don't think there is a definite relationship between the two," said Zhu Tao, associate researcher at the National Institute of Social Development under the Chinese Academy of Social Sciences, expressing belief that personal career choices are a two-way process.
People take their values into consideration when setting out on a career path while also being influenced by society as each occupation will have specific sets of requirements. When personal expectations meet social requirements, the choice will achieve relative stability.
April 27, 2021

April 23, 2021

April 19, 2021
March 11, 2021