High-end talents, foreigners get insured in Yuhang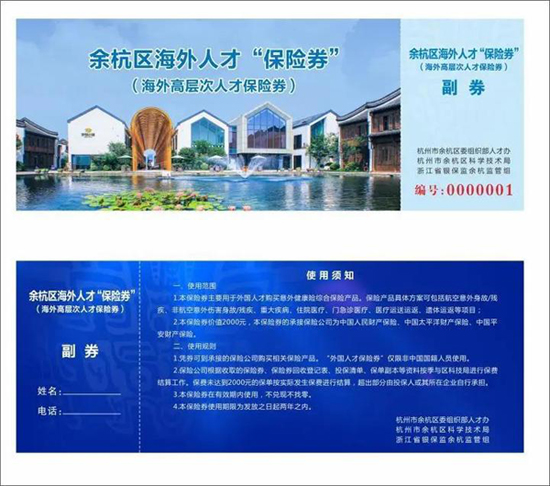 An insurance coupon issued by Yuhang district in Hangzhou for high-level talents from overseas [Photo/zj.zjol.com.cn]
The first insurance coupon issued by Yuhang district on May 20 for high-level talents has been redeemed, local media reported on June 3.
An employee at a bio-pharmaceutical company in the district's Future Sci-Tech City, where large groups of high-end talents work and live, received a discount of at most 2,000 yuan ($281) for accidental health insurance which also covers disabilities, serious illnesses as well as inpatient, outpatient and emergency treatments.
The coupon was directly issued to companies. Employees who qualify can sign agreements with insurance agencies and enjoy related discounts.
Foreigners working in the district can also enjoy the same benefit as their coupons are issued alongside their Work Permit for Foreigners in China.
The district rolled out its first insurance coupon for start-up business owners last November.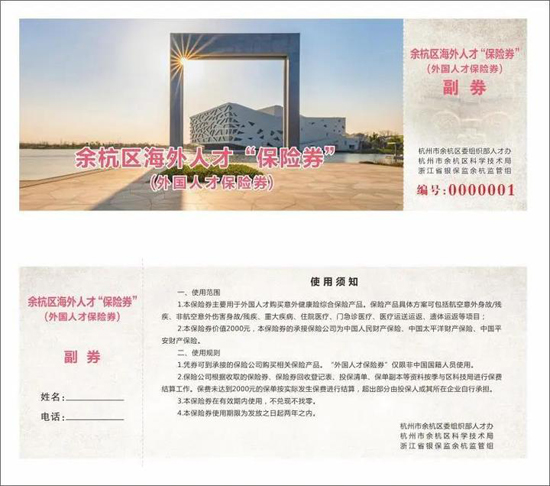 An insurance coupon issued by Yuhang district in Hangzhou for foreigners [Photo/zj.zjol.com.cn]
April 27, 2021

April 23, 2021

April 19, 2021
March 11, 2021