China (Hangzhou) Cross-border E-commerce Comprehensive Pilot Area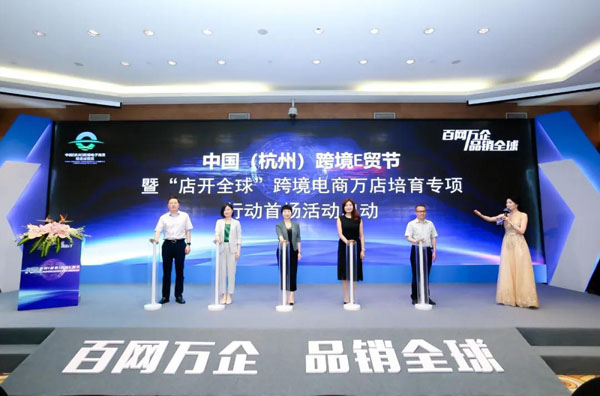 The China (Hangzhou) Cross-border E-commerce Comprehensive Pilot holds an online trade festival in June. [Photo/china-hzgec.gov.cn]
The China (Hangzhou) Cross-border E-commerce Comprehensive Pilot Area was approved by the State Council in March 2015 and has branch parks in almost every district and county in Hangzhou.
The area is now home to over 160,000 Chinese buyers on cross-border B2B platforms, represented by alibaba.com and china.chemnet.com, leveraging exports totaling over $300 billion every year. B2C platforms led by AliExpress and Club Factory have also expanded their coverage to over 60 million users across the globe, generating annual exports worth $22 billion.
Over 3,200 companies have settled in the area, of which 863 were brought in to infuse new momentum to local industries such as textiles and fabrics.
LianLian Pay and PingPong have led the introduction of domestic third-party payment platforms to serve millions of users. The 13 international shipping routes developed by logistics giants China Post and Cainiao Network have also connected the area to a network of 35 countries and regions and 95 overseas warehouses.
Technologies such as 5G, virtual reality and artificial intelligence are embedded in instant messaging and livestreaming platforms to generate more possibilities for e-commerce.
The area opened an online trade festival in June that aims to bring together over 100 online and offline e-commerce platforms within three months, help 15 characteristic local industries sell online, cultivate 150 sellers whose output values are expected to surpass $10 million, and develop 10 multichannel network (MCN) institutes to train over 50,000 livestreamers.
From January to April 2020, the total import and export volume of cross-border e-commerce in Hangzhou reached 28.43 billion yuan ($4 billion), up 7.63 percent year-on-year. Among them, exports rose 6.49 percent year-on-year to 19.18 billion yuan while imports grew 10.09 percent to 9.247 billion yuan. Exports through cross-border e-commerce accounted for 20.57 percent of the city's total.
April 27, 2021

April 23, 2021

April 19, 2021
March 11, 2021